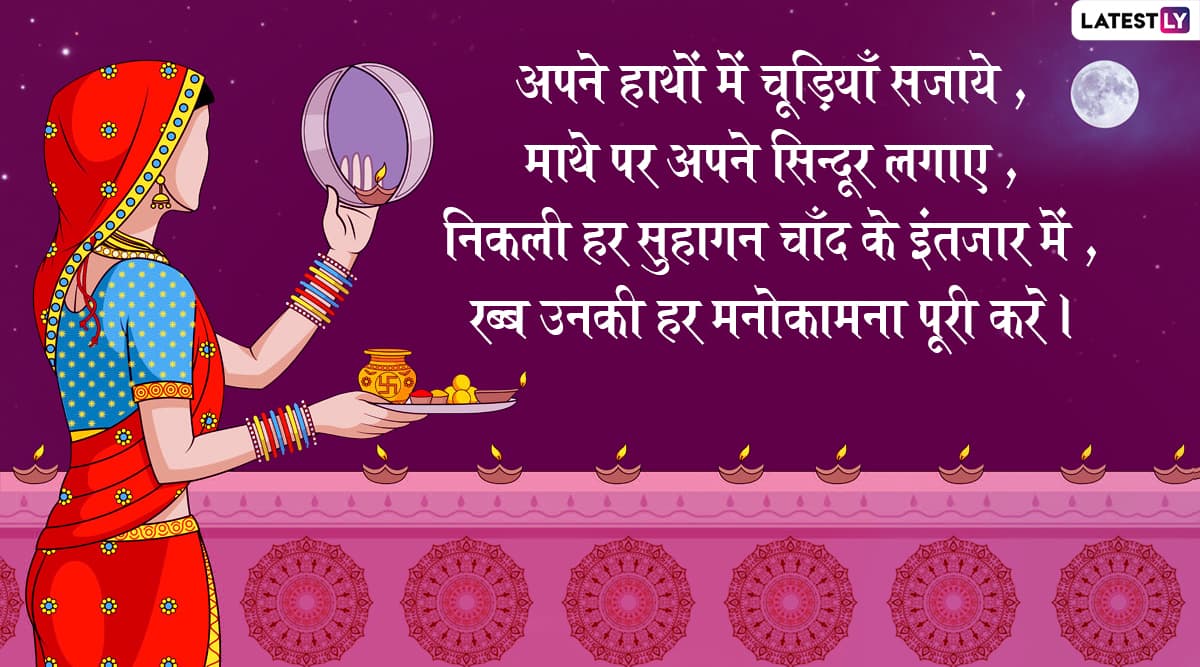 Karwa Chauth 2019 is celebrated on October 17. Karwa Chauth, also spelt as Karva Chauth is an auspicious Hindu festival observed by married women in North India. This annual festival falls four days after Purnima (full moon) in the month of Kartik. On Karwa Chauth, married women observe rigorous fast and pray for the long life and prosperity of their partners. Women who observe these fasts often celebrate this festival together, and send Happy Karwa Chauth wishes, Hindi Karwa Chauth messages, Karva Chauth WhatsApp Stickers and Facebook Status pictures on social media. We present to you a collection of Happy Karwa Chauth 2019 wishes in Hindi, Karwa Chauth Images, Karwa Chauth greetings, Karwa Chauth messages in Hindi, and a lot more.
Every year, on Karwa Chauth, married women observe strict nirjala fasting from sunrise to moonrise and pray for the well-being and long-life of their partners. Karwa Chauth celebrations concise with Sankashti Chaturthi, which is a day where people fast in the name of Lord Ganesha. However, on Karwa Chauth, people rever Lord Shiva and his family. Women also offer prayers and aartis to Goddess Gaura and Mata Chauth. Karwa Chauth is mainly celebrated in the states of Rajasthan, Prayagraj Uttar Pradesh, Himachal Pradesh, Madhya Pradesh, Haryana, Punjab, Delhi and as Atla Tadde in Andhra Pradesh.
Karwa Chauth celebrations begin with the women waking up before sunrise, and having a festive breakfast, called Sargi. This is followed by the early morning aarti and women take the pledge to fast on this auspicious day. This fast is observed from sunrise to moonrise, and people often dress up in traditional attire for the evening Puja when their fast is broken. As we prepare for celebrating this important festival, here are some Happy Karwa Chauth messages in Hindi, Karwachauth 2019 wishes, WhatsApp Stickers and Facebook Status pictures to share with your friends and family.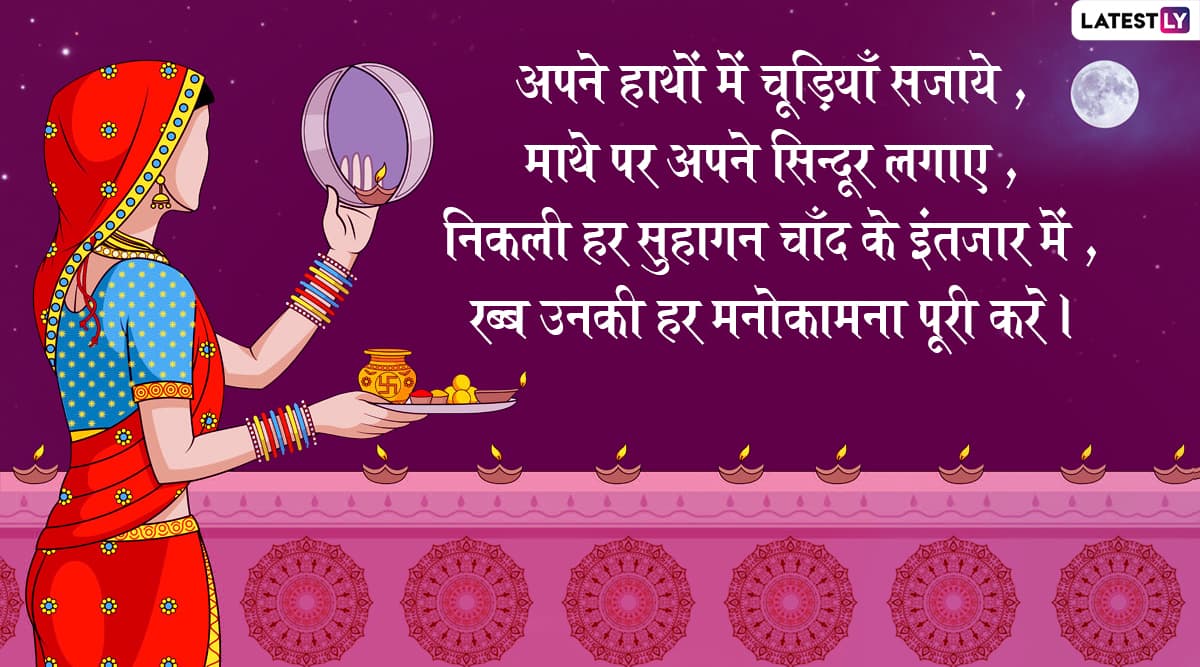 WhatsApp Message Reads: अपने हाथों में चूड़ियाँ सजाये , माथे पर अपने सिन्दूर लगाए , निकली हर सुहागन चाँद के इंतज़ार में , रब्ब उनकी हर मनोकामना पूरी करे|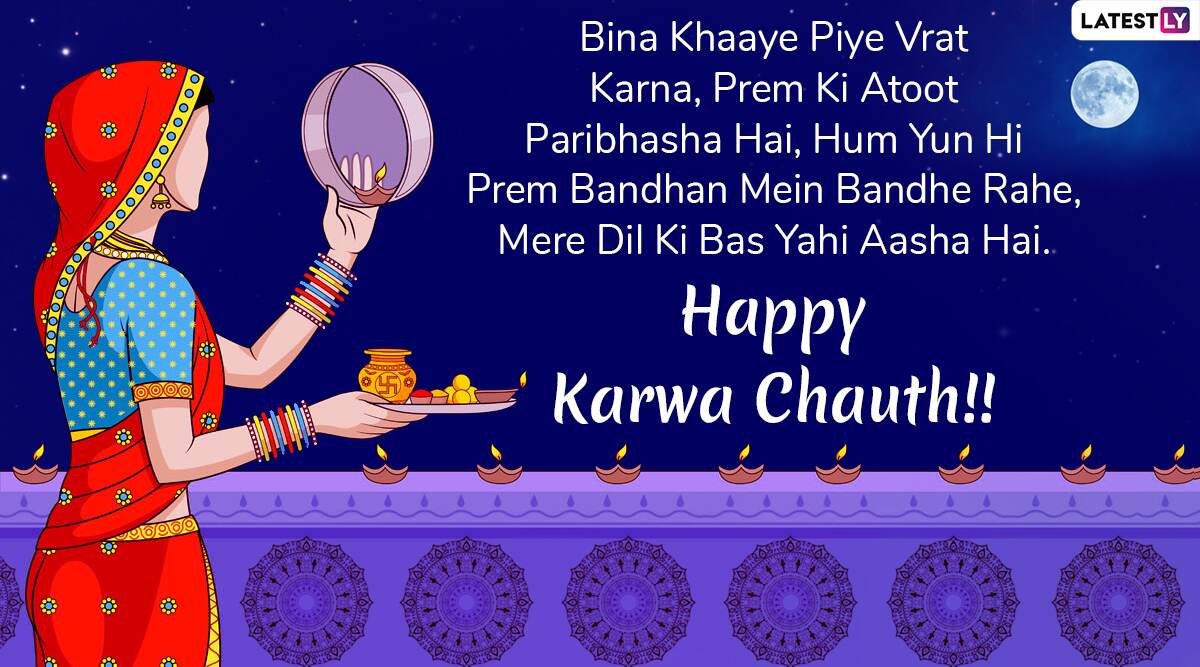 WhatsApp Message Reads: Bina Khaaye Piye Vrat Karna, Prem Ki Atoot Paribhasha Hai, Hum Yun Hi Prem Bandhan Mein Bandhe Rahe, Mere Dil Ki Bas Yahi Aasha Hai. Happy Karwa Chauth!!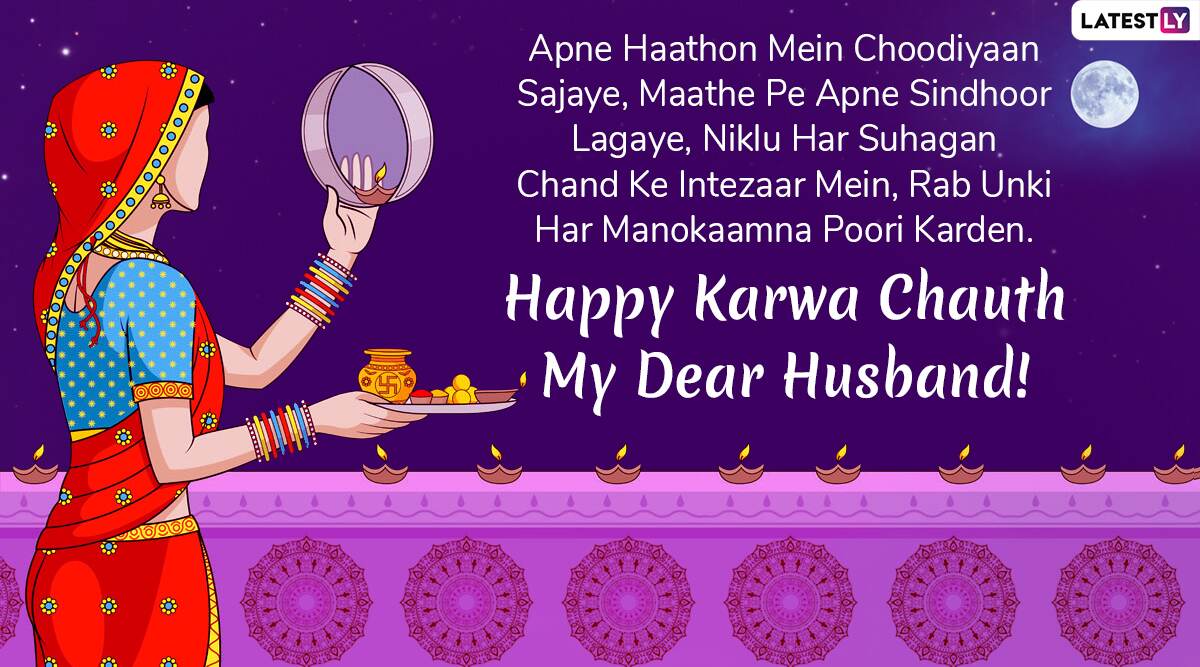 WhatsApp Message Reads: Apne Haathon Mein Choodiyaan Sajaye, Maathe Pe Apne Sindhoor Lagaye, Niklu Har Suhagan Chand Ke Intezaar Mein, Rab Unki Har Manokaamna Poori Karden. Happy Karwa Chauth My Dear Husband!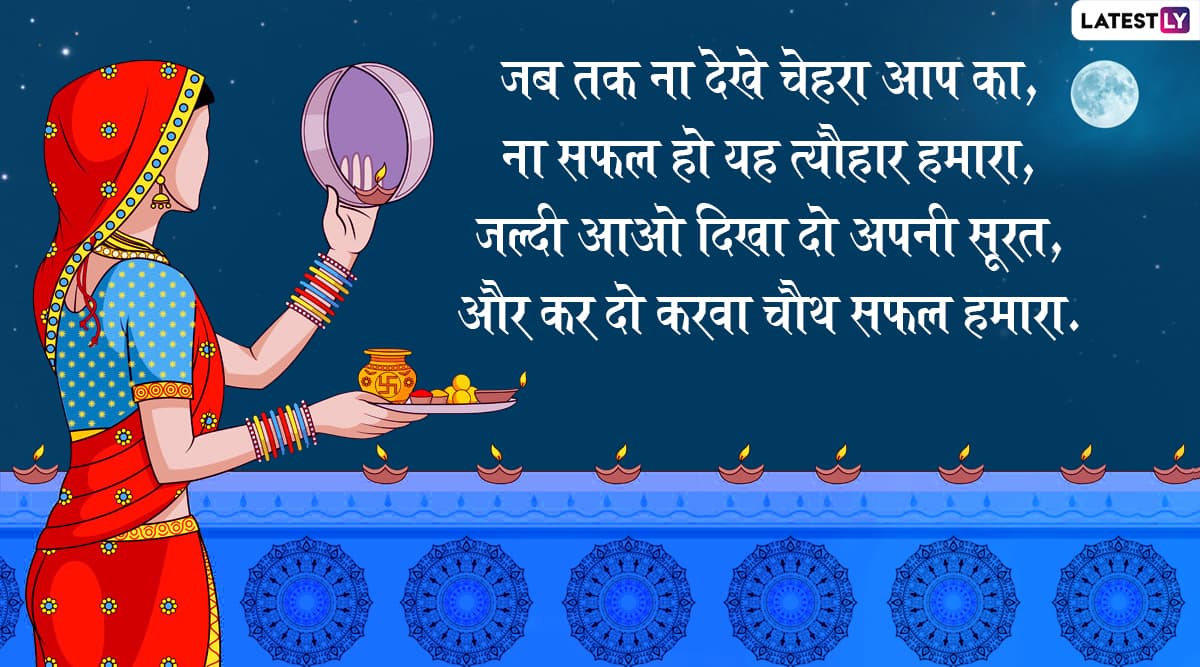 WhatsApp Message Reads: जब तक ना देखे चेहरा आप का, ना सफल हो यह त्यौहार हमारा, जल्दी आओ दिखा दो अपनी सूरत, और कर दो करवा चौथ सफल हमारा.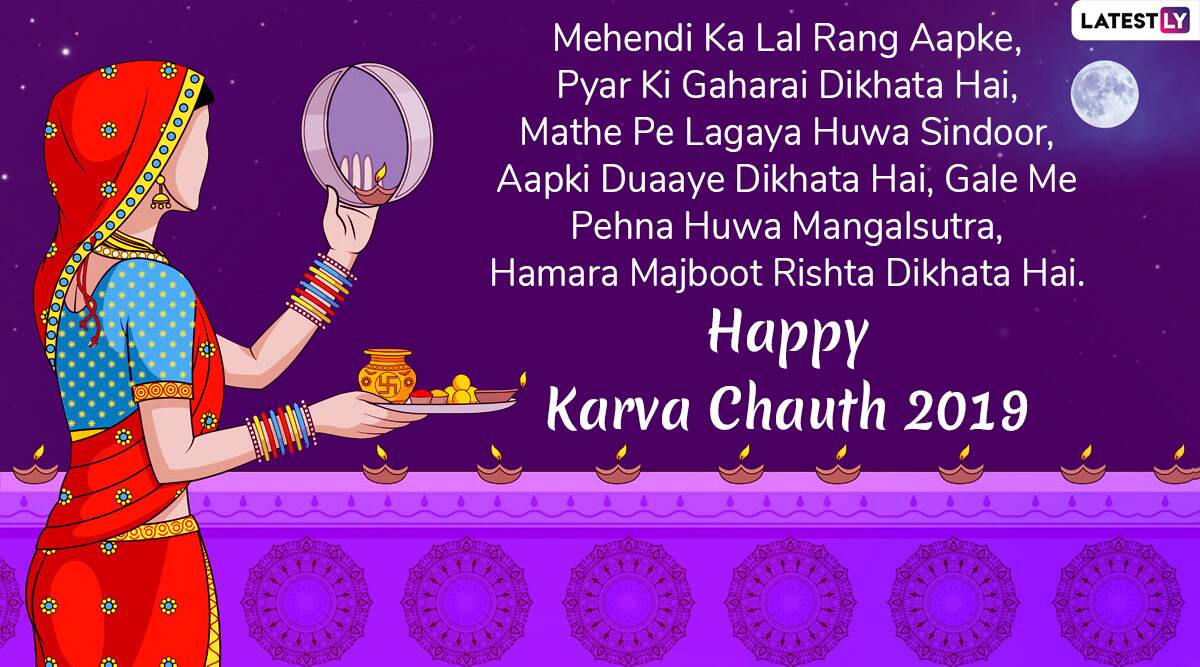 WhatsApp Message Reads: Mehendi Ka Lal Rang Aapke, Pyar Ki Gaharai Dikhata Hai, Mathe Pe Lagaya Huwa Sindoor, Aapki Duaaye Dikhata Hai, Gale Me Pehna Huwa Mangalsutra, Hamara Majboot Rishta Dikhata Hai. Happy Karva Chauth 2019.
How to Download Karwa Chauth WhatsApp Stickers Online?
You can download Karwa Chauth 2019 WhatsApp Stickers online on the Play Store app. They also provide Karwa Chauth photo frame, Karwa Chauth video maker, Karwa Chauth status, Karwa Chauth GIF greetings and more. Here's the link to download these apps.
Karwa Chauth 2019 Wishes In Hindi: WhatsApp Messages To Wish Your Husband Happy Karva Chauth
It was believed that historically, this fast was prevalent as a prayer for the long life of the soldiers who were at war, which later became focused on praying for the long life of the husband. However, in recent times, the festival has evolved with more men also participating in the fasting procedure, and transforming this traditional festival into a day full of festivities, where the couple pray for the health and well-being of each other and their family — wishing everyone a Happy Karwa Chauth 2019!