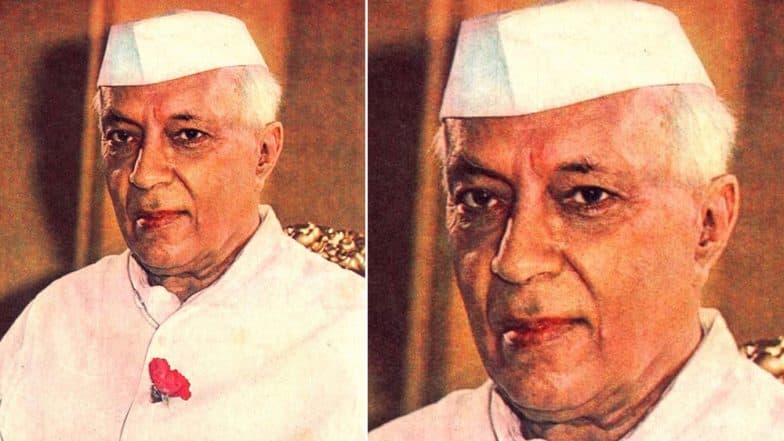 New Delhi, February 7: On the occasion of Rose Day 2019, the Congress shared a picture of India's first prime minister Pandit Jawaharlal Nehru and also mentioned an interesting fact about India's first PM and why he always kept a rose in his pocket. The Congress stated the reason as to why the first PM always pinned a rose to his coat. Any picture or portrait of Pandit Nehru is incomplete without the rose in the pocket of his famous bandgala he wore, known as Nehru coat. Rose Day 2019 Romantic Quotes: 7 Beautiful Lines to Share With Your Lover This Valentine Week.
In a throwback Thursday picture, incindia, Congress' official instagram handle wrote, "#DidYouKnow : Pt. Jawaharlal Nehru pinned a fresh red #rose to his coat everyday as a reminder of his life with his wife Mrs. Kamala Nehru, who passed away in 1938 after a prolonged illness." Rose Day 2019 Greetings & Messages. 
See the Picture and the Message in the Instagram Post Below:
The Congress' post explaining why Pandit Jawaharlal Nehru always pinned a rose to his jacket has shed light on the fact as very few people knew the reason behind India's first prime minister's love for roses. Kamala Kaul Nehru, was a freedom fighter and married Jawaharlal Nehru at the age of 17. Kamala gave birth to a girl child in November 1917, Indira Priyadarshini, who later went on to become the prime minister and head of the Congress party. Kamala died at the age of 36 from tuberculosis in Lausanne, Switzerland on 28 February 1936, with her husband, daughter and mother-in-law by her side. Happy Rose Day 2019 Songs: Best Romantic Bollywood Numbers to Dedicate to Your Loved Ones During This Valentine Week.
The world is celebrating Rose Day 2019 on February 7, 2019. February 7th marks the beginning of love week. It's an important day before Valentine's Day. Millions of roses are purchased during Valentine Week, from 7th February to 14th February. A red rose is a universally accepted symbol of love and is exchanged by lovers and those who care for each other globally on this day and the Valentine's Day on February 14.