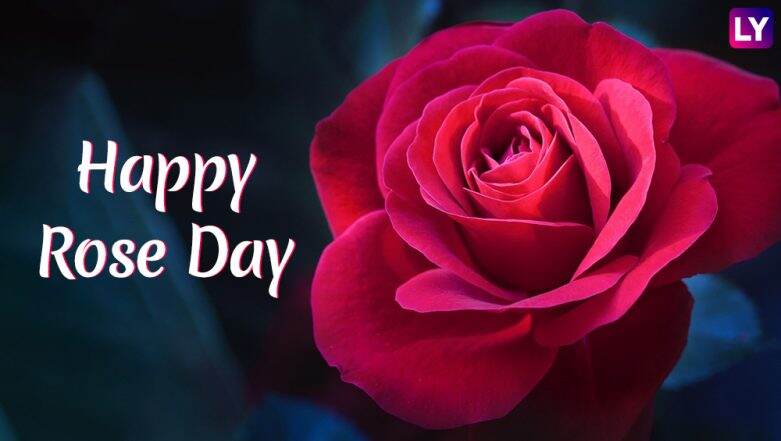 February has begun and the entire air smells a vibe of love. Starting tomorrow, the entire Valentine's Week will commence leading up to Valentine's Day on February 14. The Valentine's Week will start from Rose Day on February 7. Lovers and friends exchange Rose day wishes with their partners or crushes to mark the beginning of the week filled with love. Roses have been associated as a symbol of love since years and red roses are the most common way of announcing your love. Presenting a flower or a bouquet of flowers to your loved one is considered a lovely gesture and Rose Day gives just another reason to give the lovely roses to your partners or a crush. Thanks to the internet, we can even virtually give our greetings for the day. Rose day messages, wishes, quotes and images are shared over WhatsApp and Facebook to pass on lovely greetings for the day. When Is Rose Day 2019 in Valentine Week? Date and Significance of Rose Day Before Valentine's Day.
Rose Day marks the beginning of the Valentine's Week. College students celebrate the day with a lot of enthusiasm. And it may not be red roses, in fact, different colour roses denote different feelings. Presenting a red rose is actually a way of conveying your love towards the person. Those who may not want to give flowers but still convey their feelings can send out the love-filled rose day messages to their partners or even friends. If you are looking for Rose day wishes, and messages, let us make it easier for you with Happy Rose day images and greetings. Rose Day 2019: Don't Like The Rose? 5 Beautiful Flowers You Can Gift Instead This Valentine's Week.
Rose Day 2019 Messages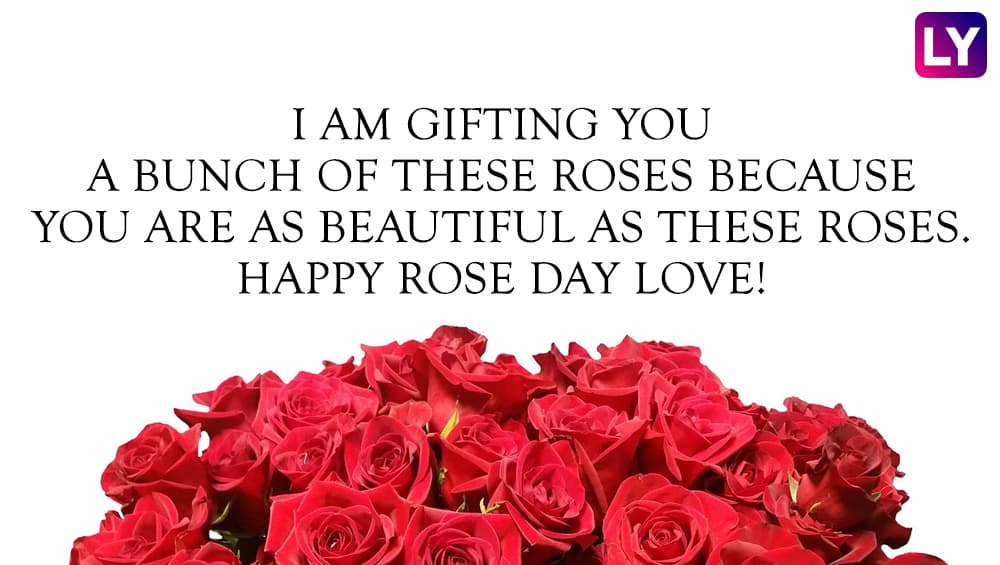 Message Reads: I am gifting you a bunch of these roses because you are as beautiful as these roses. Happy Rose Day Love!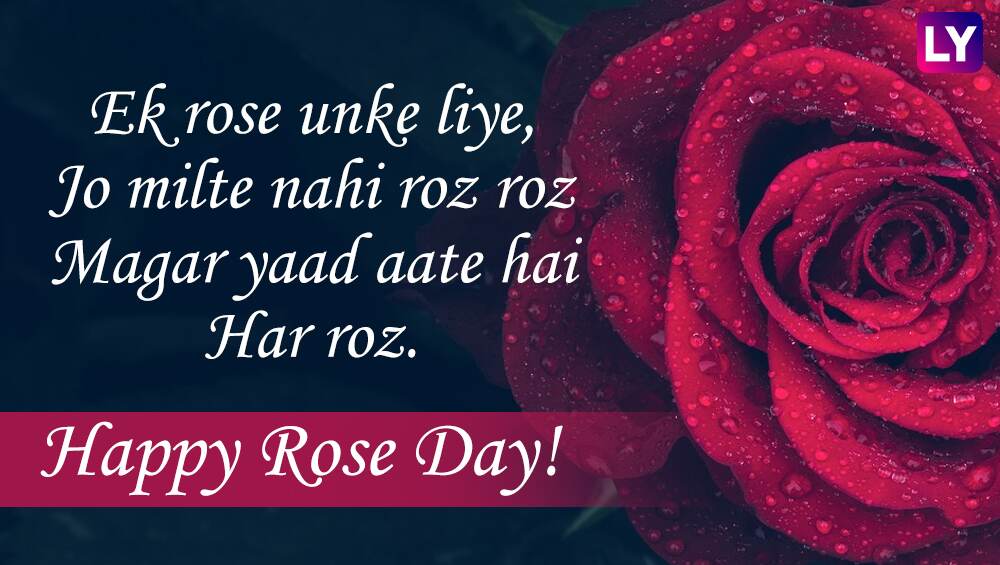 Message Reads: Ek rose unke liye, Jo milte nahi roz roz, Magar yaad aate hai Har roz. Happy Rose Day!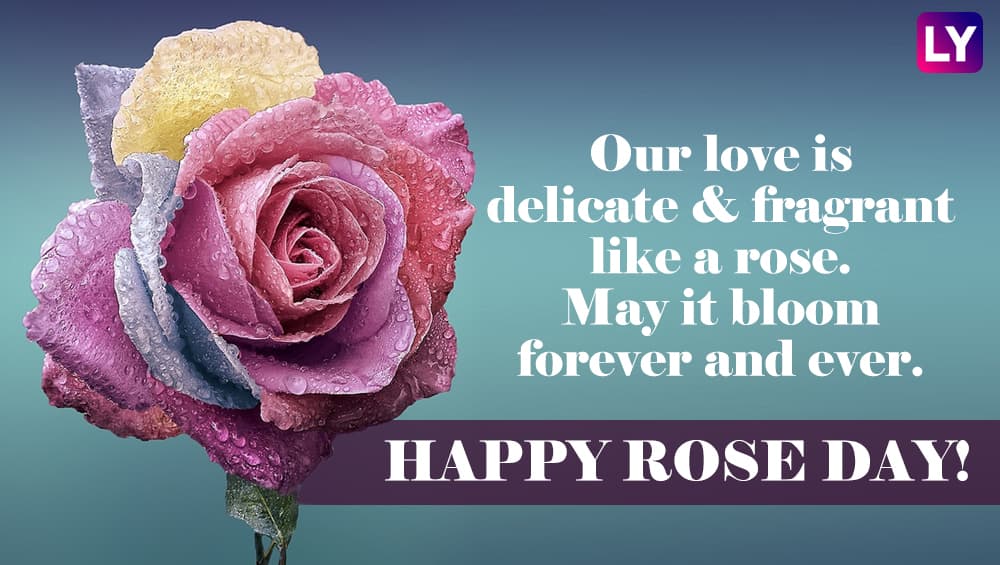 Message Reads: Our love is delicate and fragrant like a rose. May it bloom forever and ever. Happy Rose Day!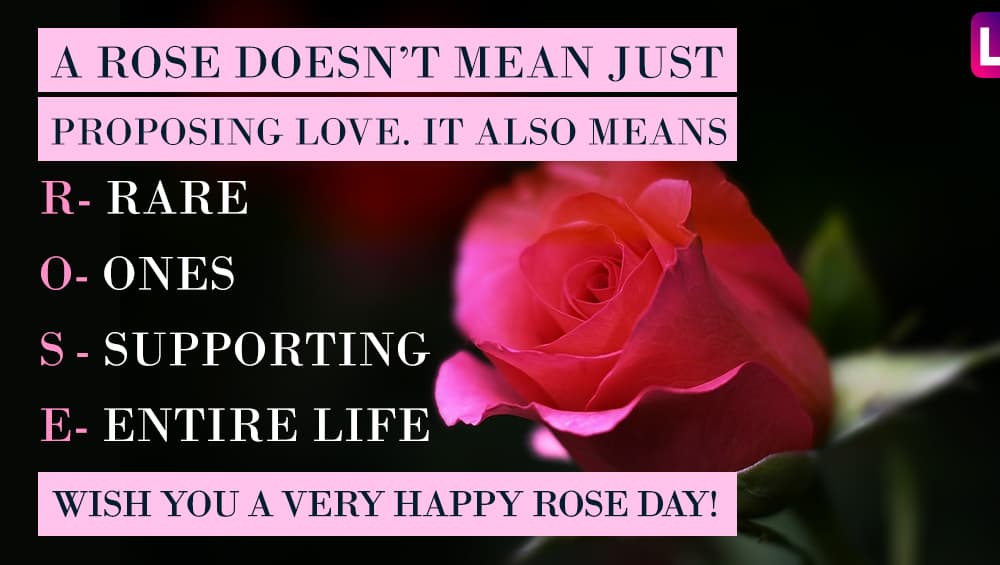 Message Reads: A rose doesn't mean just proposing love. It also means
R- Rare
O- Ones
S- Supporting
E- Entire life
Wish You A Very Happy Rose Day!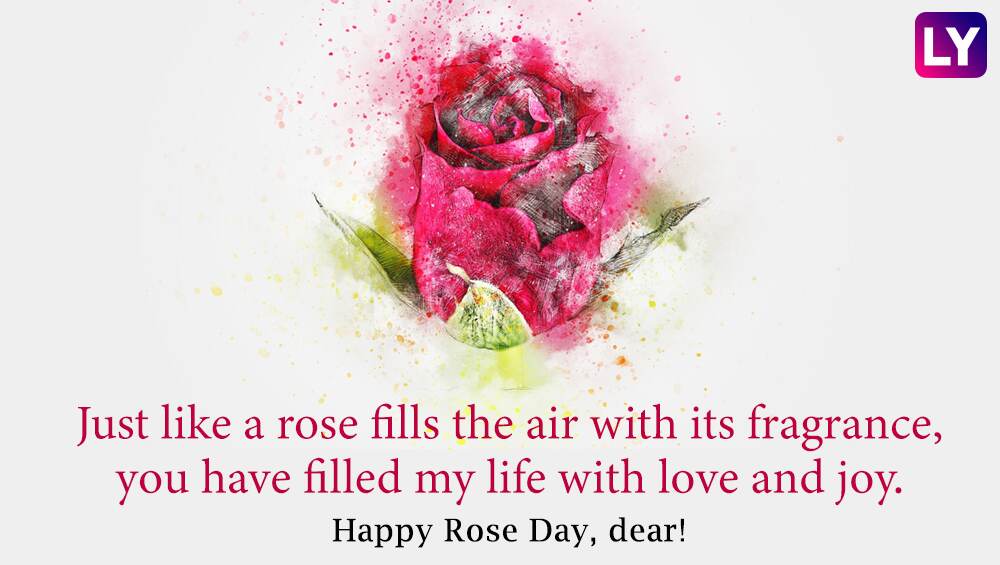 Message Reads: Just like a rose fills the air with its fragrance, you have filled my life with love and joy. Happy Rose Day, dear!
Rose Day WhatsApp Stickers
Thanks to WhatsApp stickers, it is even easier to express your feelings without words. There are several rose day stickers which you can send to your loved ones. The Play Store has apps like Rose Sticker for WhatsApp, WAStickerApps- Flowers, Rose Day Love Stickers from where you can get a lovely collection especially for the Rose Day 2019.
Rose Day GIFs
Bouquet of Roses
Happy Rose Day
We hope the above love-filled messages, images and GIFs give you a chance to express your feelings. If you do not want to spend money on roses then forward these lovely greetings to express your emotions. Wish you all a very Happy Rose Day 2019!