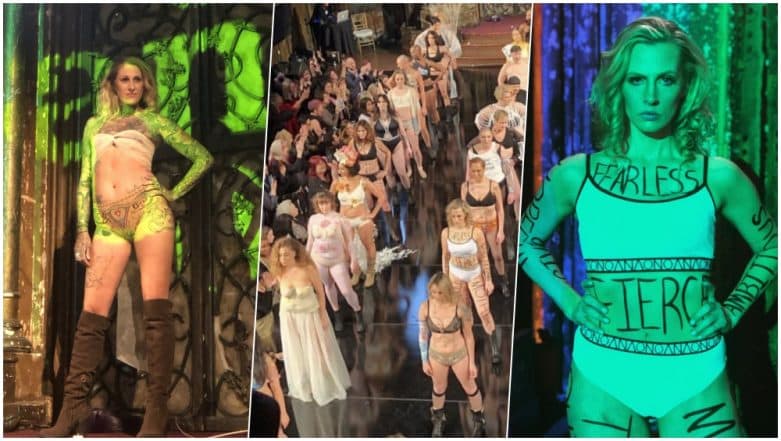 Fashion shows haven't remained just about fashion at all times now. The ramp walk has been made more inclusive in recent years. The New York Fashion Week saw a new project taking space and winning accolades this time. Project #Cancerland in association with AnaOno, a brand that designs lingerie for women who have had a mastectomy or other breast surgeries, took part in this fashion show. Over 30 models who have metastatic breast cancer walked the runway in the collection, giving out a message about their courage of living with the disease. Curvy Con: Body Positive Women Celebrate Inclusivity of All Body Sizes at the New York Fashion Week Alternative.
Some of the models who walked the ramp were in the stage IV, also called the most advanced stage of breast cancer. The money raised from this show was given to METAvivor, an organisation that's working towards making better treatment accessible to those living with the disease. Women in their early 20s to late 50s took to the ramp boldly to present the AnaOno spring 2018 collection. Founder Dana Donofree stated, "Today, we do something bigger than fashion. Today, we show the world that women are strong, and that this disease does not discriminate. This is fashion with a purpose. She started the lingerie line after her own battle with breast cancer. Calvin Klein's New York Fashion Week 2018 Saw Models Walking on a Ramp Full of Popcorn.
Check Pictures and Videos of Models Living With Metastatic Breast Cancer Walking The Ramp at New York Fashion Week
What MBS Looks Like
Take a good look at this photo. These are just some of the women with metastatic breast cancer who strutted their stuff today on a runway for New York Fashion Week. Incredible. #NotJustOne #NYFW #Cancerland #MBC pic.twitter.com/zguR4Chn4Q

— Tevelady MEDIA (@TeveladyMEDIA) February 11, 2019
What does #MetastaticBreastCancer look like? Here are some of the faces. What an incredibly impactful event yesterday...Awe-inspiring and humbling. Wow. #NYFW #Cancerland #NotOnlyOne #BreastCancer #MaleBreastCancer #brca @AnaOnoIntimates @metavivor @diepflapbreast @BreastAdvocate pic.twitter.com/DaTK4LY3tO

— Dr Minas Chrysopoulo (@drchrysopoulo) February 12, 2019
#NYFW @AnaOnoIntimates @metavivor #cancerland pic.twitter.com/PvcOyLZYiB

— Chad Spielmann (@chadspielmann) February 10, 2019
With words like fierce, fearless, brave, focused written on their bodies, all of these women showed how bold they are and the courage they embrace to live their lives every day. One of the participants Kristina Tripplett who came all the way from Houston to be a part of the show was quoted, "The message I would like to send to women is to love yourself, embrace yourself, and have fun with it.  You're living, so enjoy the fact that you're alive." All the funds that were raised at this show will also be used to change the public perception of the condition.