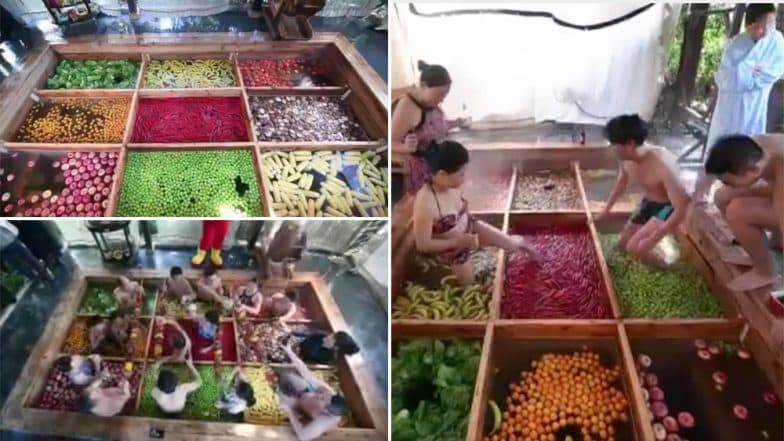 In the coming week, millions of people will be celebrating the Chinese New Year. It is an essential festivity to the Chinese people all over. Many public events are organised across China to welcome another New Year. To keep up the spirit, as the Chinese New Year 2019 is fast approaching, guests at a hotel in Hangzhou, Zhejiang province are experiencing some delightful time with their families. To celebrate the Lunar New Year, Hangzhou's First World Hotel has designed one of its hot spring pools that appears to be one big human hot pot for its guests. The videos and pictures on the internet are speaking every emotion. What Does It Mean to Be Born in the Year of the Pig?
Chinese New Year, also famous as the Spring Festival is a holiday that celebrates the beginning of a new year on the traditional Chinese calendar. The whole town will be painted in red, with lanterns lined up in the streets to welcome the Year of Pig. Symbols of luck will be printed on equipments as part of decorations. First World Hotel in Hangzhou has always been in the headlines for their unique ideas to provide a warm stay at the tourist hub in China. According to media reports, the idea behind the hot spring was to promote a healthy lifestyle in the final time before the arrival of the Chinese New Year 2019. Rebellious Character Peppa Pig to Return on the Big Screen in the Year of the Pig. 
Watch Video of Human Hotpot Spring Pools in China
Fancy a dip in a human hotpot? A tourist town in eastern China is trying to attract health conscious visitors with hot springs designed to look like a fiery hotpot, a popular Chinese dish said to drive away the winter blues pic.twitter.com/fU85bMtYcY

— AFP news agency (@AFP) January 29, 2019
The travellers can take a dip into a hot spring bath which is shaped like a rectangular copper pot with nine compartments, each containing essential hotpot elements like chilli peppers, lime, corn and lettuce. The guests enjoyed barbecued skewers of meat while they soak. The happy face of tourists chilling at the hot spring pools is going viral now.