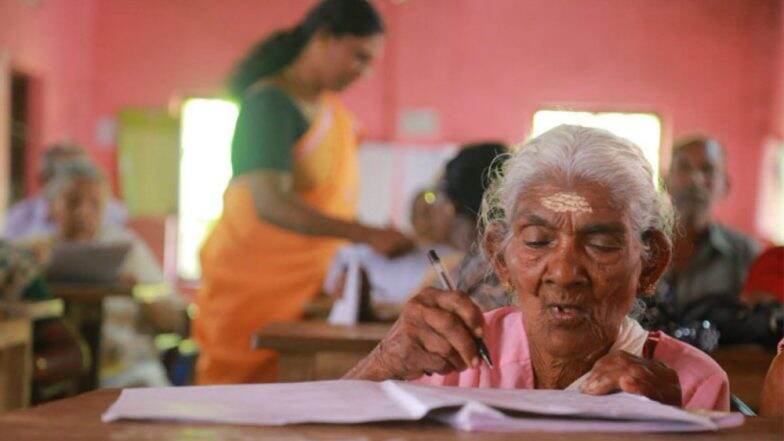 We all know Karthyayani Amma. The popular resident in Kerala who chose to go back to school in an age when most of the women and men would shy away. Age is just another number to her! When the 96-year-old student last appeared on the headlines, she was seen participating in the literacy examination conducted by the Kerala State Literacy Mission Authority on August 5. Her determination to study at the age has astounded the nation, and since then Amma's followers have been eagerly waiting for the outcome. Results are finally declared! The oldest candidate under the Aksharalaksham (Million Letter) programme topped with a 98 per cent marks and cleared the test with flying colours. Age No Bar! Kerala's Karthyayani Amma Writes Literacy Exam Aksharalaksham at an Age of 96. 
Hard work did pay off well for Amma. The 96-year-old who began to dream about studying was inspired when she saw her 60-year-old daughter, Ammini Amma successfully clearing the literacy mission's course. According to ANI, Amma topped among 43,300 students who appeared this year in the Literacy exam at Kerala. She will receive a merit certificate from the Chief Minister of the State, Pinarayi Vijayan on November 1, 2018, at the CM's Conference Hall. The 96-year-old Karthyayani Amma scored 98 out of 100 marks in the literacy test. Her reading, writing and basic mathematical skills were tested in the exam. Age is Just a Number! Meet 96-year-old Student From Kerala Who is Not Too Old to Study. 
Out of the total number of candidates, approximately, 42,933 students cleared the exam this year, taking the state closer to its aim of 100 per cent literacy. The literacy mission course is corresponding to class 10 in the formal education system. About her achievement, Amma told, the India Today, "I'm happy that I got good marks. Now I know how to read, write and calculate." To all the readers, this is just the beginning for Karthiyaniamma, and she is now set to learn English in the next term like her 'great grandchildren'.