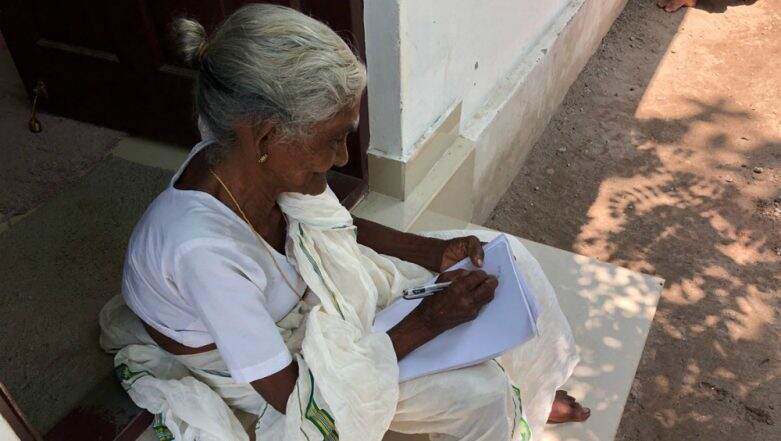 Remember Karthyayani Amma? The 96-year-old student whose determination to study at the age has astounded the nation. She stands strong defining age is no bar. You will be glad to know that Amma finally appeared for her literacy examination which was conducted by the Kerala State Literacy Mission on August 5. She was among the 40,440 people who sat in the state exam; Aksharalaksham. The Literacy mission sources said that the 96-year-old participated in the examination at the Cheppad government LP school. Karthyayani Amma belongs from Cheppad, Haripad, in Alappuzha district is the oldest of the examines in the state. Meet 96-year-old Student From Kerala Who is Not Too Old to Study. 
On Sunday, the examinees were tested on reading, writing and Mathematics in the 100 marks paper. Driven by the urge to read and write, she decided to study and enrolled herself in the programme six months ago. Like any student, Amma was nervous too. At the age of 96, she sat for her first examination in her life. Media reports stated that after answering the first question to fill in the blanks, Amma regained her confidence and nothing could sweat her anymore. After the examination, studious Amma complained that not much questions were asked.
Being the oldest student to be enrolled in the literacy programme, Karthyayani began to dream when she saw her 60-year-old daughter, Ammini Amma clearing the literacy mission's course. She aspires to complete class 10 under the government scheme. A student needs to score at least 30 marks to pass; 9 out of 30 in reading, 12 out of 40 in writing and 9 out of 30 in Math. And Karthyayani Amma already scored 30 out of 30 in the reading session of the Aksharalaksham exam.
Karthyayani Amma's passion to study motivated many in her village and over 30 aged residents enrolled in the same programme. Aksharalaksham is a government project of the mission to achieve cent per cent literacy which focuses mainly on 16 to 75 age group. Out of the total 40,440, as many as 29,500 were women to appear in the exam. The largest number of people sitting in the exam is from Thiruvananthapuram district with 9,074 candidates and the least being 711 from Kottayam.