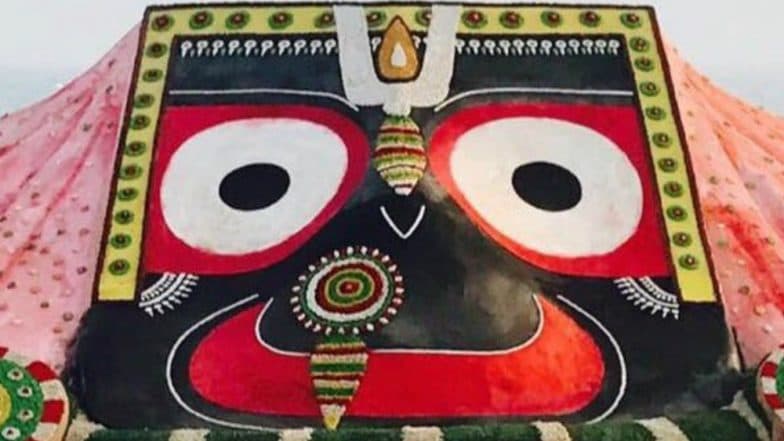 The devastating Cyclone Fani, has reportedly killed 34 people and left property worth crores in ruins. As Odisha lies battered by the fury of cyclone Fani, the state Chief Minister appealed people to help and support the state rebuild itself. People all across social media, has geared up and joined hands together to take every possible measure to remake Odisha. Today, on May 7, Jains and Hindus in India are observing Akshaya Tritiya, which is also known as Akti or Akha Teej. The festival literally translates eternity in the sense of prosperity, hope, joy and success. On account of the auspicious occasion, artist Sudarsan Pattnaik created beautiful sand art, while appealing his followers to support the state to rebuild itself, after the monstrous cyclone fani. Here's How You Can Contribute to Online Donation for Cyclone Fani Relief and Rescue. 
Thousands of people working and living in Bhubaneswar and Puri are busy relocating their families to their native places as the city is struggling to get back into normalcy. When the India Meteorological Department (IMD) warned the state of the severe cyclonic storm, panic gripped in among the residents. Urging the citizens to keep their calm, artist Pattnaik at the time too created a sand art at the now vulnerable Puri sea beach to appeal to people to stay calm and stay safe. Cyclone Fani: Rs 1000 Crore Relief for Fani Damage, Says PM Narendra Modi.
Today, on the occasion of Akshaya Tritiya, the Padma Shri awardee Pattnaik, on his Twitter feed wrote, "Today is the auspicious #AkshayaTritiya. Please join your hand and contribute to rebuild odisha. #OdishaAfterFani."
Lord Jagannath Sand Art Appealing People to Support to Rebuild Odisha
Jai #Jagannath . Today is the auspicious #AkshayaTritiya. Please join your hand and contribute to rebuild odisha . #OdishaAfterFani 🙏 pic.twitter.com/ysUY32hgF0

— Sudarsan Pattnaik (@sudarsansand) May 7, 2019
You can also be a part and support Odisha to rebuild itself. Any small and large donations to the Chief Minister's Relief Fund is acceptable. Besides, organisations such as Goonj, Ketto, Milaap, Oxfam India, Helpage India, ActionAid, UNICEF USA and many more are accepting donations in all forms for the relief.