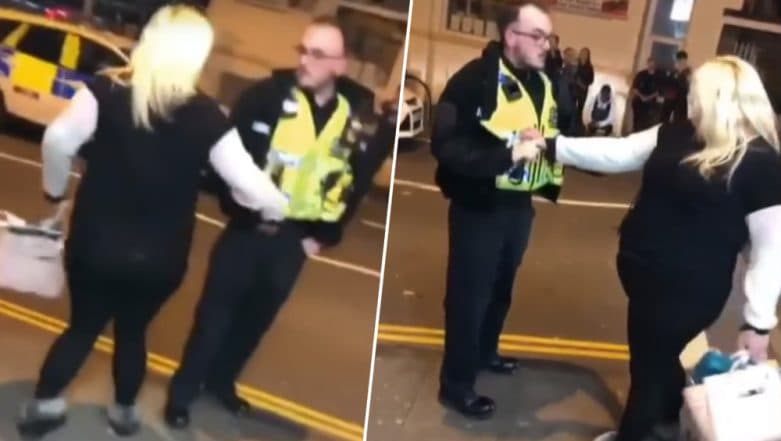 The state of being drunk can make you take some terrible decisions. This recent incident is one such example of foolish activity done under the influence of alcohol. A drunk woman tried to twerk on a police officer and also taunted him to arrest her in Wales. She went ahead to say, "Arrest me with your c**k!" And videos of her misbehaviour has gone viral. While leaving the police officer unimpressed, the woman dressed in black leggings and a jacket, was definitely able to attract a £90 fine and a night in the cells.
In the video, you can see the police officer asking her if she is going to move on. She, however, kept dancing really close to him while he pushes her away. She can be heard saying: 'No I'm waiting for you to arrest me,' in the video while people watching her kept laughing. In another failed attempt she tries to twerk on him and gets shoved away. Soon police officer grabs her arm and tells her that she is under arrest for being drunk and disorderly to which the woman had the audacity to urge the officer to arrest her by saying: 'Arrest me with your c**k.'
The clip was posted on Facebook on Friday night and was filmed by 17-year-old Liam Sammars who posted the clip to Facebook with the caption: 'Only in Newbridge would a random lass try twerking on a copper*'
Take a look at the video that is going viral:
The post is flooded with comments shaming her. One of the many comments read: "Her parents should be totally ashamed! Stupid girl! Pathetic behaviour! What an embarrassment she is." Somebody else said: "Shameless trout! the copper was good though. Fair play to him."