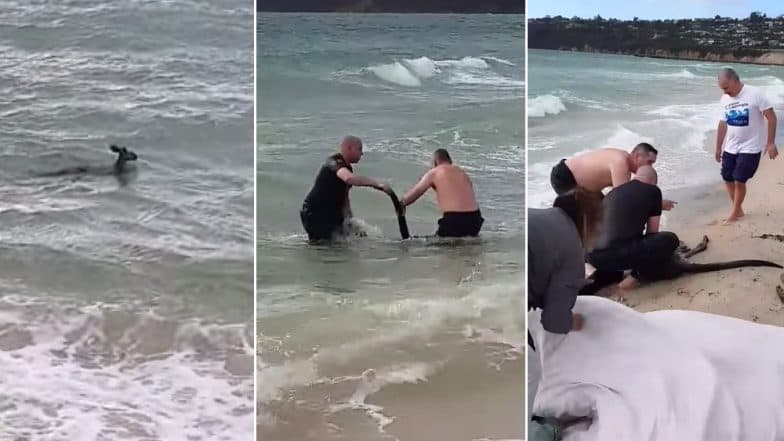 A video going viral on social media shows two policemen jumping into seawater to save a kangaroo in Australia. Rosebud police were at Safety Beach on Saturday when they were alerted about a kangaroo drowning near the beach. The cops received multiple calls that a kangaroo was in the water just off Marine Drive. The kangaroo was trying to swim but the waves overpowered it and went beneath the waves a couple of times.
It was a sergeant and a senior sergeant who jumped into the water to save the animal. The animal was taken out of the water immediately and taken to the shore. It was wrapped in a blanket and taken to Roe Police Station where an officer from the local Wildlife Centre assessed its condition. JetBlue Saves French Bulldog Mid-Air With Oxygen Mask Setting an Example for Airlines That Mistreat Animals.
Watch the video here:
The animal is currently in good care and recovering. Victoria Police shared the video on Facebook saying, "The roo is currently being cared for but is said to be in good spirits and lucky to be alive given the amount of salt water he inhaled, thanks to his rescuers." The comments section is filled with praises for the officers who saved the animal.
The Age quoted Sergeant Russo said, "We jumped in and swam out to him, by the time we got there blood and froth were coming out of his nose and mouth, so the kangaroo was definitely in the middle of a drowning event." He added saying, "This does not happen that often, we deal with a lot of animal events in the [Mornington] Peninsula. We have a high kangaroo population. This is the first one I've encountered at the beach in the water."