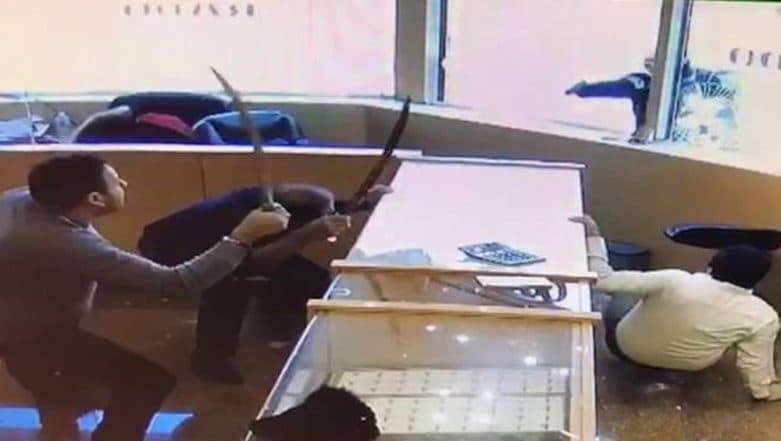 A video that is going viral on social media shows three employees of a jewellery store in Canada saving their store from an intruder. In the clip, three men can be seen stopping the robber with swords as he broke off the glass walls of the store. Four men had attempted to break into Ashok Jewellers in Mississauga when the employees came armed with swords.
Arjun Kumar, the son of the store's owner, told CBC News, "When we saw them coming in, that's when we really took action and we rushed them. They had a gun but my main concern was, I wanted them to not get into my store." He said that one of the men had a handgun, but it had jammed. Man's Hilarious Attempt to Rob Colorado Store As His Gun and Pants Drop Is Going Viral (Watch Video)
The footage shows the men trying to force themselves into the store by using a hammer to break the glass panels. However, after repeated attempts and seeing how the employees were armed, the miscreants fled. The local police are now using the video footage to identify the men. The robbery attempt was stopped and there was no loss.
Here is the video of robbery attempt:
However, Constable Danny Marttini from the Peel Police said that they do not accept the use of swords, She told Global News, "It could have easily turned into a completely different situation. We could have been looking at numerous people being injured. I have to say that property is not of equal value to a human being."
But the store owners said that the swords gifted to them by a family friend and considered its presence in the store at the time of the incident as a good luck. Similarly, a robbery attempt was reported at a jewellery store metres away from Ashok Jewellers. The employees had fought off the men with swords.