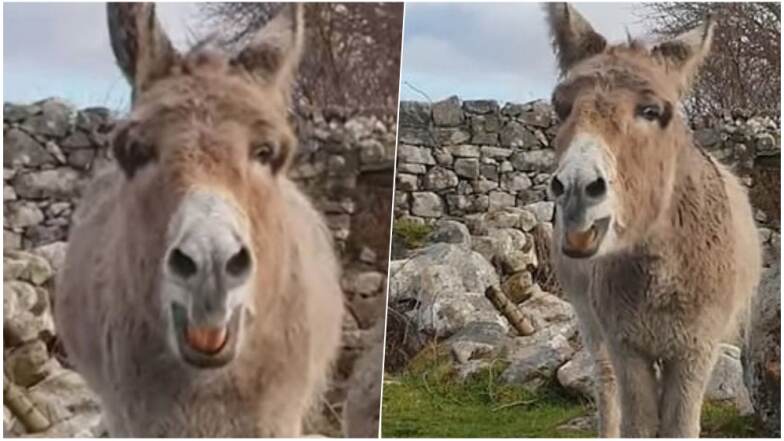 Donkeys for long have been associated with laborious tasks. The farm animals have been used as working animals for so many years. But Harriet, a donkey from Ireland is far more talented. Living in Carraroe, Connemara, the donkey is melodious, to say the least! After a video and a news report on this singing donkey this week, it has only been going viral. Harriet is now making it to headlines all over because she is far from braying and has become an internet sensation. This Dog Accidentally Howled Like Britney Spears' 'Toxic' Tune and Twitter Is Going Crazy! Watch Funny Video. 
Harriet's neighbour Martin Stanton has been visiting Harriet for over a year but only in the last week did he take her video and uploaded it on Facebook. Harriet clearly has operatic tones in his voice that can give her a stage presence. Since the news report, she has become an attraction for more and more people coming along. Stanton's post has garnered more than 2 million views in a week. Donkeys Wearing Fashionable Pants Are a New Trend? Watch Pics! 
Watch Video of Harriet the Donkey Singing Melodiously in High Notes
Isn't she amazing? Talking about her singing Stanton told ABC, "I know the family who own her and I bring carrots, bread and ginger nut biscuits. She never hew-haws like other donkeys." He says she is very adorable, gentle and friendly. He didn't think his video would go so viral. "I found the video funny so I just posted it." But indeed, Harriet has all the qualities to go viral! The news report on Harriet is also garnering huge praises.
Check out the News Report on the Singing Donkey in Ireland
The owners of a singing Connemara donkey say they're overwhelmed with her global fame after a video of her went viral pic.twitter.com/KCNajYfLk5

— RTÉ News (@rtenews) October 26, 2018
The owners are in awe of the fame Harriet has been getting too. Well, she is 11-years-old. She sings so melodiously that she has become an internet sensation and clearly deserves every bit of her fame.