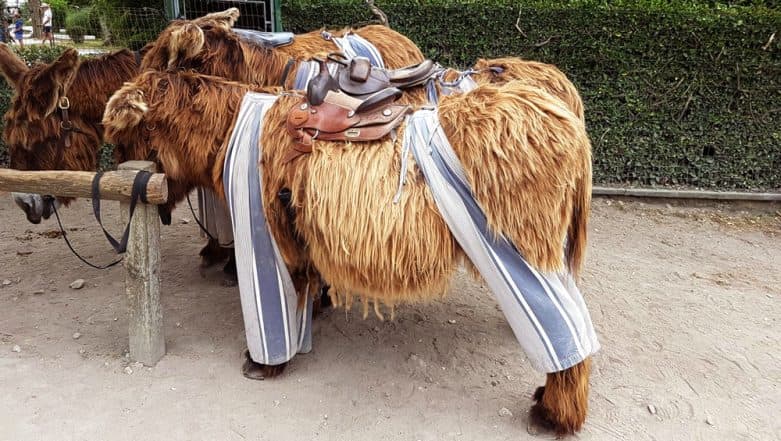 Watching dogs and cats dressed in colourful clothes are garnering attention for their cuteness on social media, is not very novel. We have seen several accounts of dogs and cats who are Instagram celebrities with their fashion. An Adorable Cat Named Dog is Selling Fish in Vietnam, See Cute Pictures of the Feline Seller. But pooches and furry babies adorning clothes can relax for a moment as we see donkeys now in fashionable pants in some parts of the world. Users are tweeting pictures of donkeys in pants and needless to say they are stylish too.
Seeing donkeys dressed in pants may seem too new but well, it has been followed in different countries. The main aim is to prevent the flies and mosquitoes from biting their legs but people are ensuring they do it stylishly. A volunteer from Donkey Sanctuary of Canada made a pair of trousers for donkeys and following the trend are others too.
Take a look at the pictures of the donkeys wearing pants:
We have exciting news! Big Ben (and his pants) are gonna move to the small screen! Check out Ben, his pants, and our volunteer Sheila on @CTVKitchener evening news tonight! #PVRit pic.twitter.com/p4581SHHYF

— The Donkey Sanctuary of Canada (@DonkeySancCa) June 21, 2018
Fun fact - on the Ile de Re, in the south of France, donkeys are traditionally dressed in fashionable trousers to stop mosquitoes biting their legs. pic.twitter.com/0vUiA8aiZL

— Jonathan Bucks (@jonathanbucks) July 27, 2018
This weekend I went to a donkey sanctuary with my family. One donkey was getting horrible fly bites on his legs so a volunteer MADE HIM PANTS!!! I have never been so delighted by anything in my entire life pic.twitter.com/uzzkABE2HQ

— H.G. Watson (@HG_Watson) June 18, 2018
The volunteer Sheila Zanyk informed how the donkeys were also proud about their new outfits. "The first time we put them on him, he was really proud of himself. He walked around the whole barnyard – just "look at me, look at me", she said. These pants which cover their front and hind legs well are also beneficial during the winter season. Cow Wearing a Bra, What Did We Just See in This Pic? British Farmer's Invention is Too Crazy!
So it is no longer the cats and dogs who may be covered in sheets and jackets. Now donkeys too have their custom-made trousers and we agree they look good on them too. What do you think about this donkey fashion?