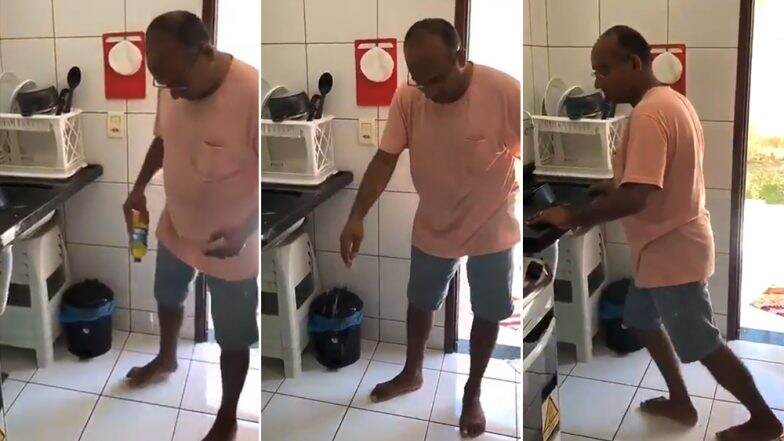 Fitness equipment can be quite expensive sometimes, especially treadmills, that can cost thousands of bucks, but did you know you could make your own DIY treadmill at home using oil? Well, for fun's sake, Yes! A video of a man creating a "low-cost" treadmill at home is going viral. The video was shared by Kiran Mazumdar Shaw, Chairperson and MD of Biocon who has also received Padma Shri & Padma Bhushan awards. In the video, you can see a man who initially spills some oil on the floor and then tops it up with some sprinkles of water. He then mixes it well and checks if the floor is slippery enough. After this, he starts running on the area as one would do on a treadmill. This "low-cost treadmill" video is going viral ever since Shaw shared it with the caption: "Low cost treadmill invented in Gujarat! The gujju brain knows how to save money!" Woman Chops off Chunk of Her Hair To Make A DIY Makeup Brush! Watch Bizarre Video. 
Watch Video
Low cost treadmill invented in Gujarat! The gujju brain knows how to save money! pic.twitter.com/kQ7tQayNdd

— Kiran Mazumdar Shaw (@kiranshaw) August 21, 2019
The funny video was received a huge reaction with over 7.8K
likes and over 2K retweets. While some were amused, some were concerned about the safety of the practice.
Check Out Some of The Funniest Reactions:
Not only weight loss, but height loss also will happen if u do this continuously.

— Prem kumar (@premcube) August 21, 2019
Absolutely
5 trillion dollar idea.

— md.abubakar (@abubakr1976) August 21, 2019
LOL
Just name the treadmill as "Patanjali chalak vahak" and bhakts will queue up to buy it.

— Be Yusuf (@barmare_yusuf) August 21, 2019
Yes
If slips out of control, face will be out of shape with teeth coming out or even head injury. Cheaper solution will become the most expensive

— bvenkat (@bvenkat60510486) August 21, 2019
Inspiration Video
Inspired from here pic.twitter.com/RLE80AkLo8

— Fickle (@_fickle__) August 21, 2019
This Is Us
— Goutham (@Goutham9139) August 21, 2019
However, even though Kiran Majumdar Shaw had initially said that the man was Gujju aka Gujrati, some of the people online corrected her by informing that the is actually from Brazil. Nobody has taken ownership of the video yet.