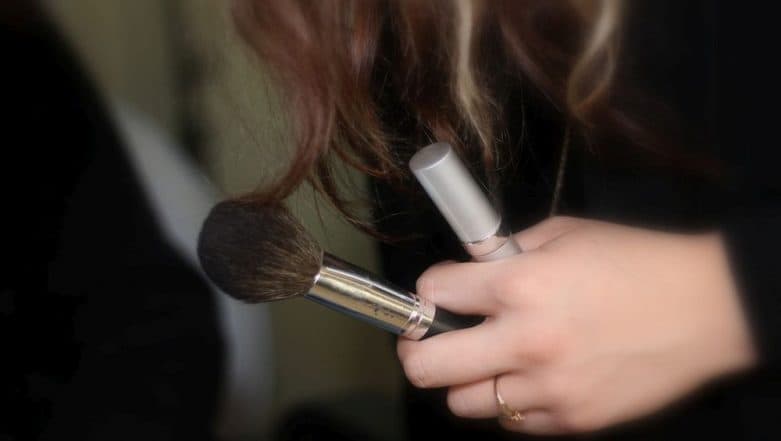 The beauty industry is possibly the most profit-making industry among others. Good quality makeup products are highly expensive and since makeup affects the skin very closely, women do spend a lot on makeup products to purchase good makeup products and avoid breakouts. One such product is the makeup brush. Available in a large variety, makeup brushes come in different shapes and sizes. However, good quality makeup brushes do cost a bomb. And this one woman found a strange yes easy hack to make her own makeup brush. Her hack will make you laugh out loud and yet applaud her for her presence of mind. Woman Orders JBL Speaker Worth Rs 7000 From Amazon, Receives Box of Laddoos and Diyas, View Pics.
This beauty blogger recently posted a video on her Instagram where she made a makeup brush using own hair and a pencil. Yes! She chopped off her own hair and put the pieces of hair into a pencil top to make a makeup brush of her own. She used the brush to apply her makeup. You'll see this strange tutorial on "5-Minute Craft." It begins with a woman chopping her hair after tying a small section of her hair with an elastic band. She uses a pair of scissors to cut her hair and takes the bunch of hair to stick it on the pencil top. She removes the rubber from the pencil and glues the hair bunch on it. She then trims it down to make the "bristles" made out of her hair even. However, you can actually see the brush is put to use to apply eyeshadow and blend it well. Take a look at the video.
Many didn't like the video that much and called them out for overdoing things. One of the comments said, 'All that fancy makeup isn't gonna cover the big missing chunk of hair in the front.' What do you think? Let us know your views in the comments section below.