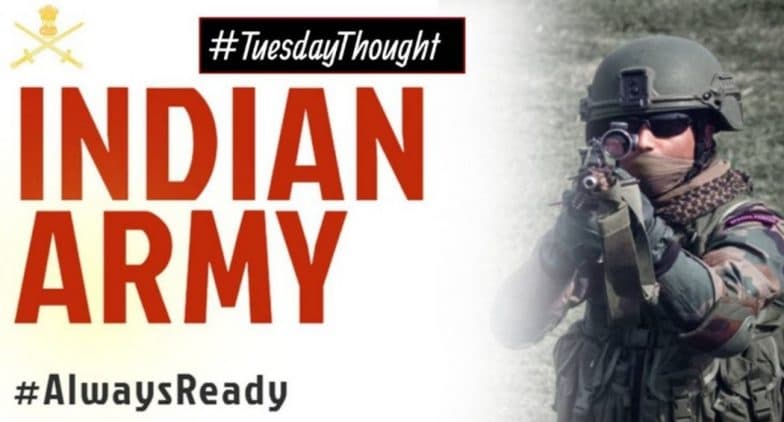 New Delhi, February 26: After India carried out not a "military action", but pre-emptive air strikes to counter terrorism based on the intelligence across the LoC (Line of Control) on Tuesday to target the biggest terror outfit Jaish-e-Mohammed, the India army shared a poem that highlighted the courage and valour of Indian soldiers and suffused the atmosphere with feelings of victory and patriotism.  JeM Terror Camps Destroyed by IAF in Strikes Across LoC Balakot: Photos.
"क्षमाशील हो रिपु-समक्ष तुम हुए विनीत जितना ही, दुष्ट कौरवों ने तुमको कायर समझा उतना ही। सच पूछो, तो शर में ही बसती है दीप्ति विनय की, सन्धि-वचन संपूज्य उसी का जिसमें शक्ति विजय की।, which translates to, (If you are docile and polite before the enemy, he may consider you as a coward, the way Kauravas treated Pandavas)," the Indian army tweeted a Hindi poem, with the hashtag #AlwaysReady. 'Surgical Strikes 2': IAF Strikes On JeM Camps Across LoC – Who Said What?.
'क्षमाशील हो रिपु-समक्ष

तुम हुए विनीत जितना ही,

दुष्ट कौरवों ने तुमको

कायर समझा उतना ही।

सच पूछो, तो शर में ही

बसती है दीप्ति विनय की,

सन्धि-वचन संपूज्य उसी का जिसमें शक्ति विजय की।'#IndianArmy#AlwaysReady pic.twitter.com/bUV1DmeNkL

— ADG PI - INDIAN ARMY (@adgpi) February 26, 2019
The poem written by Hindi poet and essayist Ramdhari Singh "Dinkar" was tweeted by Additional Director General, Public Information- Indian Army. The poem mentioned that peace overture is possible only when you are in a powerful position and capable to win. Pakistan Rattled by Surgical Strikes, Violates Ceasefire at Multiple Locations in Jammu And Kashmir.
On February 26, at 03.30 hours, 12 Mirage 2000 Fighter jets carried out a pre-dawn air strike at terror camps across the LoC and completely destroyed it with 1,000 kg bombs. According to reports, around 300 terrorists were killed as a part of the operation. Reports further say the bombing on the Jaish-e-Mohammed terror base went on for 21 minutes. After this, all IAF aircraft returned safely.