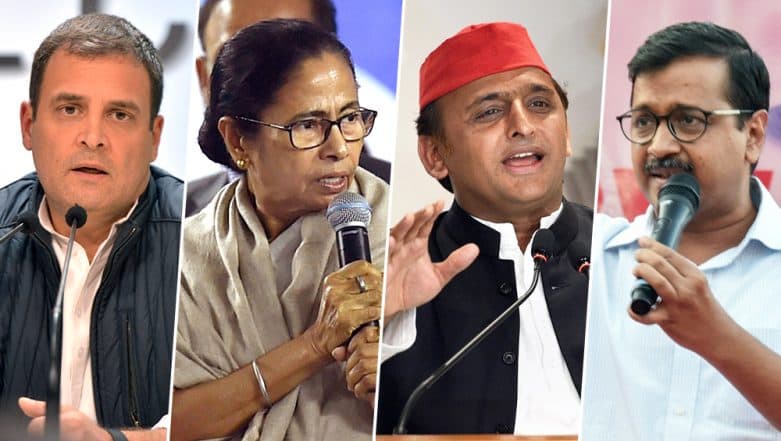 New Delhi, February 26: Early this morning, the Indian Air Force carried out an aerial strike at terror camps across the LoC. The raids comes after the suicide attack in Pulwama. A fleet of 12 aircraft entered the Pakistani airspace and returned to India after Pakistani Air Force jets were scrambled to intercept them. According to reports, 12 Mirage 2000 jets participated in the operation that dropped 1,000 kg bombs at the terrorist camp across the LoC and completely destroyed it.
Here's what the Indian politicians have to say about the armed forces and the surgical strike:
Arvind Kejriwal, Delhi CM: "I salute the bravery of Indian Air Force pilots who have made us proud by striking terror targets in Pakistan."
Rahul Gandhi, Congress President: "I salute the pilots of the IAF."
Mamta Banerjee, West Bengal CM: "Let us cherish the 'idea of India' for which our freedom fighters laid down their lives. Our people and our great institutions must strive to remain "independent", in the true sense of the word 2/2."
Akhilesh Yadav, President Samajwadi Party: "I salute the Indian Air Force and indeed all our Armed Forces. Congratulations."
Watch: How IAF Struck Terror Camps in PoK
Sharad Pawar, President NCP: "Salute to #indianairforce for giving befitting reply to the terrorists operating from POK!"
Yashwant Sinha, Former Minister Finance and External Affairs: "Congratulations to our brave air force for a brilliant operation across the LOC."
B. S. Yeddyurappa, Former CM Karnataka: "It's a day to salute our braves. India has struck the biggest Jaish-e-Muhammad terrorist camp in Balakote. This is #NewIndia, How's the Josh?"
Prakash Javadekar, Union HRD Minister: "It was a necessary step required for the security of the country … it was an act of maha parakram (mightily act)."
Devendra Fadnavis, Maharashtra CM: "We feel proud of our armed forces which did not allow martyrdom of our jawans to go in vain. We proved our might."
The air strike comes after the Pulwama attack on 14 February 2019, where a convoy of vehicles carrying security personnel on the Jammu Srinagar National Highway was attacked by a vehicle-borne suicide bomber. The deadly attack resulted in the deaths of 40 CRPF personnel. Adil Ahmad Dar, a Kashmiri local and a member of militant group Jaish-e-Mohammed took full credit for the attack.