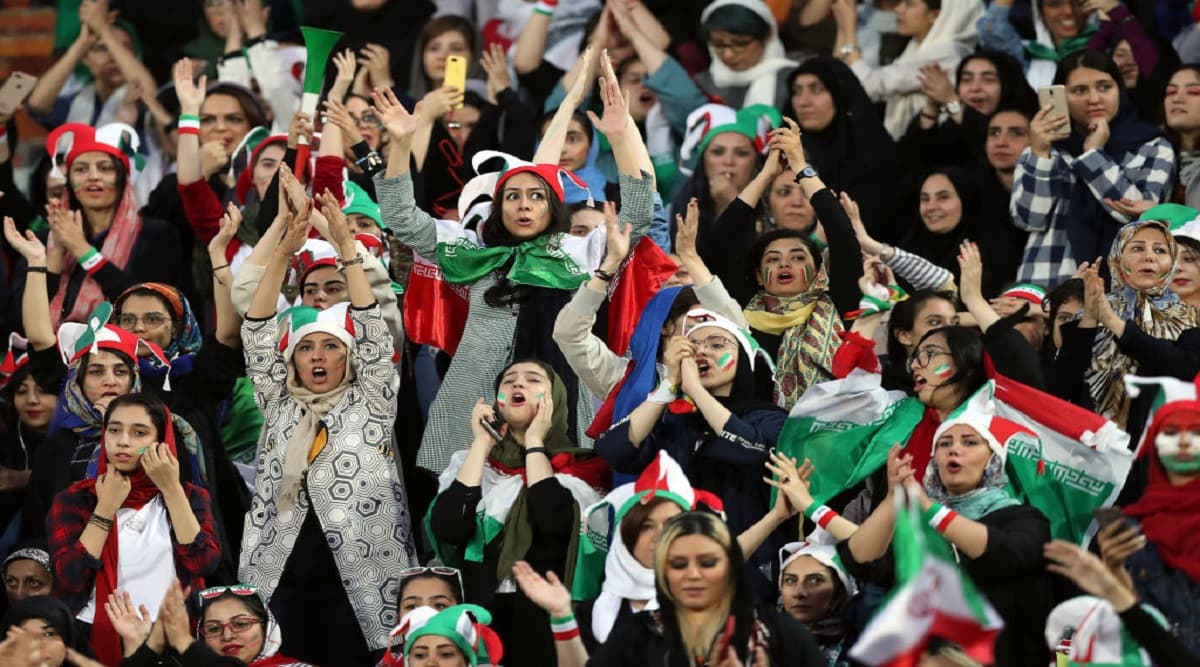 Tehran, October 11: Forty years after the Imam Khomeini-led Islamic revolution in Iran, it was the first occasion on Thursday when women were allowed to enter inside a football stadium. Nearly 3,500-4,000 female soccer fans were part of the first batch of women fans to enter the stadium after upliftment of the ban by the Hassan Rouhani government. As the women cheered on with the red, green and white flags, the Iranian men team ended up crushing the Cambodian team 14-0 in the FIFA World Cup 2022 qualifier match.
The historic moment at Tehran's Azadi Stadium came nearly two weeks after Sahar Khodayari or the "Blue Girl", arrested for attempting to enter inside a football stadium, immolated herself outside the courtroom. Several among the female fans were caught on camera paying homage to the deceased by chanting "Long Live, the Blue Girl".
Regime Police Crackdown on Some Fans Chanting 'Blue Girl'
Regime police attack #Iranian woman with the slogan "Blue Girl long live your name" at Azadi stadium. After pressure from @FIFAcom the regime built a cage in Azadi stadium for a small group of women only to attack those that dare speak up. Gender apartheid & repression continues pic.twitter.com/tRHTON44tq

— Alireza Nader (@AlirezaNader) October 10, 2019
The fans also shouted "Thank You, FIFA" as the football association's pressure on the Iranian government was essential in lifting of the ban. Although the Iranian government has decided to end restriction, insiders of the conservative regime claim that the permission granted to women may not be permanent.
The entry of women into the stadiums will continue only if the country's powerful clergy is satisfied that the their attendance at the football stadium is in accordance with the Islamic code of conduct.
At the Azadi Stadium, where the first batch of female fans witnessed a football match after 40 years, a separate section was earmarked where male fans were barred from entering. Further, the law enforcement officials were tasked to ensure the modesty of women is not outraged in any manner.
FIFA President Gianni Infantino has thanked President Hassan Rouhani for taking the historic step of allowing female fans to witness the football matches in the stadium. While the women's only section has so far come up only in Tehran's Azadi stadium, FIFA has appealed the Iranian government to set up special stands for female fans at other stadiums as well.