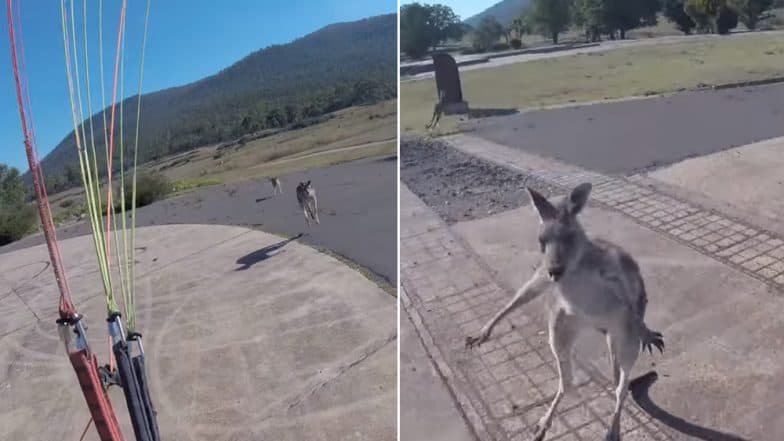 Australia is known as the land of kangaroos and the national animal ensures they don't let anyone else land here! Or so what it looks like in a recent video that is going viral on the internet. A video of a paraglider landing in the Kangaroo land and immediately getting attacked by one is being shared online and people are having a good laugh. The paraglider named Jonathan Bishop was sure pissed by a not-so-friendly welcome from the animal but so was the kangaroo, unpleased with this man flying down. Bishop anticipated it to be a friendly hello which was more of a small fist fight. Kangaroo Enjoying on Football Pitch in Australia Will Take Away Your Monday Blues, Watch Pics and Video.
Jonathan Bishop was landing at the Orroral Valley in Namadgi National Park when the animals came in to say hello or probably go back. The 35-year old was landing from his parachute when he did acknowledge the hello but it soon turned the animal pushing him to the ground. Bishop thought it would be a friendly encounter and is heard saying, "What's up Skip?" But the kangaroo pounced upon him which left him swearing at the animal to go away. There was another kangaroo nearby who preferred watching from a distance as if his mate would need help for a further attack on the man. Australian Cops Rescue Kangaroo Drowning in Seawater, Video Goes Viral.
Watch Video of The Paraglider Being Attacked by a Kangaroo as soon as he Landed in Australia
The video has been going viral and shared on different social media platforms. It is indeed a funny altercation, something the man would not have expected. Luckily, the kangaroos ran away soon and didn't come around with fists again. But they sure messed with the man's landing, although he wasn't hurt by the sudden reception. Well, entering their territory is not welcoming after all.