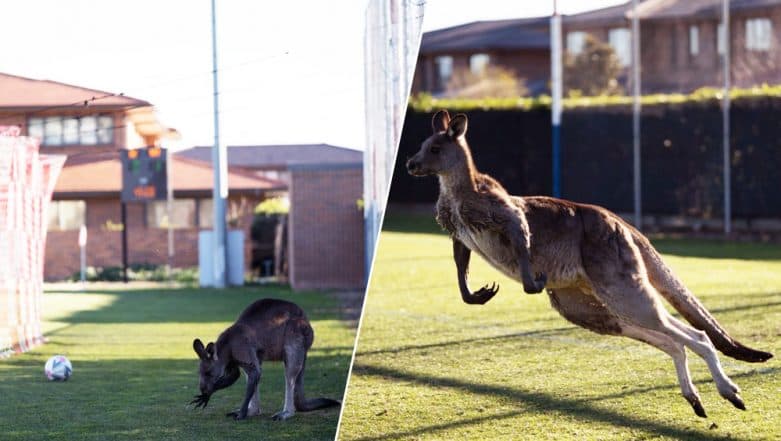 Kangaroo at play won't be a new sight if you're in Australia, but this one particular one just enjoying jumping across an 18-yard football pitch, disrupting an ongoing match. A Canberra women's premier league match was delayed by 20 minutes, due to this unexpected guest. On Sunday afternoon, the kangaroo hopped in the footabll pitch while the ground staff ran behind him. While most animals would fancy playing with a ball, the kangaroo wasn't. The kangaroo's invasion was caught on a video and it is very delightful to watch if you are having a gloomy day.
The incident took place in Deakin suburb close to the Red Hill reserve. Belconnen United FC and Canberra FC players were enjoying a game but the kangaroo came in the goalkeeper as they returned for the second-half of the game. Their play was halted for 20 minutes until the kangaroo hopped along and then left. The kangaroo jumped across a fence, even lay down and then ran to find an escape at the back.
Have a look at some pictures of the Kangaroo at play: 
This fella was in no rush to let the second half of @BLUE_DEVILSFC v @CanberraFC1 get underway. #NPLW #Canberra pic.twitter.com/oPqiiCpnh5

— CapitalFootball (@CapitalFootball) June 24, 2018
Doesn't he look really happy on the field? The entire footage of him was captured on a live stream for Bar TV Sports.
Take a look at the video of kangaroo enjoying on a football field in Australia:
The staff tried to throw a ball towards him but that was smartly ignored as the kangaroo enjoying jumping around more. The kangaroo even got its share of commentary, "[It's] racing across the field, scattering players left and right, bearing down on goal. We're obviously trying to do the best thing for the kangaroo without hurting it ... and he's out of the gate and he's gone!" Looks like he too caught the FIFA fever across the continent, but contrary he did not fancy the ball.