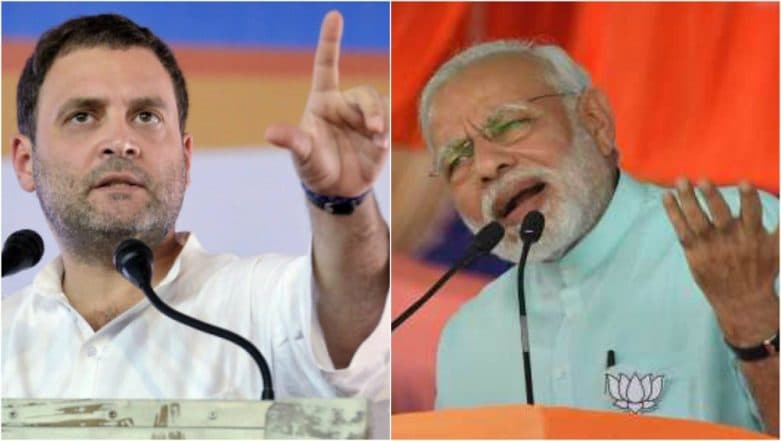 India, a culturally-diverse country, is also home to several languages. The linguistic diversity spread across India often gives a tough time to national leaders and politicians when they visit different parts of the country mainly for campaigning during elections. When Hindi-speaking politicians visit the southern part of India, they need a translator and the translated speech often becomes a butt of jokes. One such incident happened with Congress President Rahul Gandhi in Kerala when his speech was lost in translation,
This is not just about translation. Even lack of proper understanding of a particular language makes a politician's speech hilarious. Prime Minister Narendra Modi twice committed blunders while delivering a speech in English. We have compiled a list of speeches that were either lost in translation or became a funny sermon due to lack of the person's understanding of a particular language.
1- Rahul Gandhi addressed a public meeting in Kerala's Pathanamthitta where he targetted PM Modi on a range of issues. However, his speech faced multiple hiccups due to the translator who kept spacing out for moments and asked the Congress leader to repeat his address in his ear several times. The translator remained confused throughout Gandhi's address.
Watch: Rahul Gandhi's speech lost in translation
2- Bharatiya Janata Party (BJP) chief Amit Shah has gone through many times what Rahul Gandhi faced in Kerala. In March 2018, Shah's words at a rally were lost in translation thanks to the party's senior leader Prahlad Joshi. Joshi translated Shah's statement and said: "The Prime Minister (Narendra Modi) will do nothing for the poor." Shah had said Siddaramaiah could not develop Karnataka.
3- Before Joshi's gaffe, Amit Shah himself had committed a blooper, calling BJP's chief ministerial candidate BS Yeddyurappa's government in Karnataka, number 1 in corruption. Shah was then corrected by Joshi.
Amit Shah's tryst with translator, watch video:
4- Amit Shah's woes with Kannada translators had continued after Joshi's wrong translation. After Joshi, a woman translator was reprimanded by Shah on stage for showing her over-reaching skills. "Arrey Rahul baba, aap Modiji se sawal pooch rahe ho? (Rahul baba, you are questioning Modi ji?)" Shah had said. Translating the words, the woman had used words like 'Vishwaguru' which did not find any mention in Shah's three-second line.
Amit Shah reprimands traslator, watch video:
Shah immediately cuts her off, asking her to stick to the script and only translate what was said. "Main kahaan Vishwaguru bola hoon?",  Shah is seen asking in a video of the incident.
5- PM Narendra Modi is known for his unmatched oratory skills among politicians. However, his tryst with the English language was caught on camera twice. In February 2015 when Sri Lankan President Maithripala Sirisena's had visited India, PM Modi wrongly pronounced 'Mrs' to 'M R S' while thanking Srisena's wife.
PM Narendra Modi says 'M R S' to 'Mrs', watch video:
We love his style as he welcomes the #President of #SriLanka & his wife Mr. & Mrs. Sirisena. #NaMo #Modi pic.twitter.com/OsQaBJE1Gi

— Kaustav Songman (@KaustavSongman) February 18, 2015
6- Another such incident happened with PM Modi in China when he misspelt the word 'strength' while attempting to coin a new acronym to define the India-China relationship. The video, which went viral on social media, PM Modi is seen spelling 'STRENGTH' as 'STREANH' while addressing delegation level talks.
PM Narendra Modi misspells 'STRENGTH', watch video:
It is high time politicians should learn multiple languages and better not rely on translators for effective election campaigning.