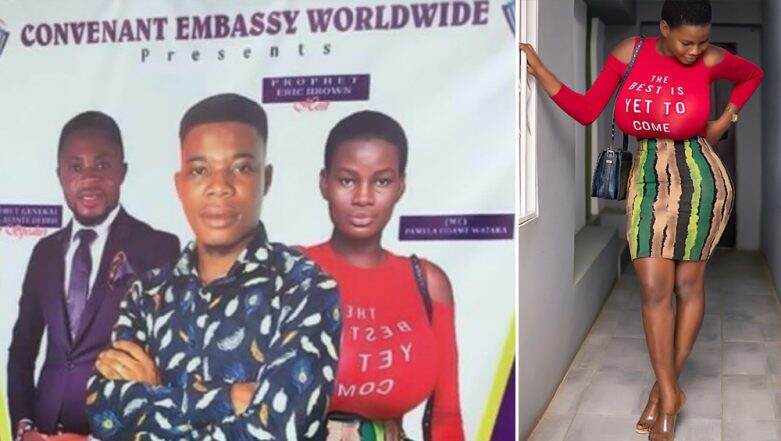 Controversies have always surrounded Pamela Odame Watara, who is essentially an Instagram model and a video vixen. Also known as the Nicki Minaj, and Kim Kardashian of West Africa, Watara owns a super sexy hour-glass figure with humongous breasts to flaunt. The well-endowed Instagram model has recently grabbed headlines ever since a picture of her promoting a church programme has gone viral. Her picture beside two prophets called Prophet Asante, and Prophet Eric Brown, the leaders of Covenant Embassy Worldwide church, has left netizens in shock. She was seen on the flyer made for the church's event titled, "Binding the sacrifice to the altar" on September 1, 2019, and people cannot believe their eyes. Big-Boobs Instagram Model, Pamela Odame Watara Claims Influential People Ready to Pay $1000 to Touch Her Huge Breasts; Check Out Hot Videos.
It is being said that the big boob Instagram model will be hosting the programme, and the aim is to attract a big crowd that day.
Take a Look at The Picture of The Flyer That Has Been Sent Out:
Prophet Hires Slay Queen, Pamela Odame Watara To promote His Church Programme (+Photo) https://t.co/tkstp81tpr pic.twitter.com/WbWPg3d2sL

— #PromoGuy (@IamTwinCity) August 29, 2019
Pamela Odame Watara had earlier gone viral for her blasting interviews about her contribution to the society apart from her big boobs. In the interview, Pamela had revealed that she was a Senior High School drop out but soon moved to Kumasi and then to Accra. She also gave out major secrets about how she had slept with about five men to pay her rent.
Check The Controversial Interview:
Pamela Watara had also earlier this year claimed that she was chased by prominent, influential people, such as parliamentarians, ministers, footballers etc. "who want to get a feel of her big boobs". She also revealed that many of these men were willing to pay over $1,000 just to cop a feel of Pamela Odame Watara's humungous breasts.