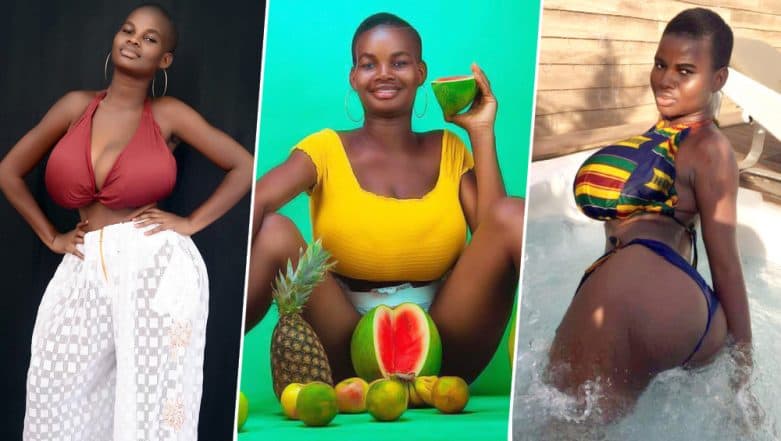 Pamela Odame Watara is also known as the Nicki Minaj, and Kim Kardashian of West Africa owns a desirable hour-glass figure with exceptionally huge breasts. The Ghanaian Instagram model's big boobs are extremely popular on Instagram, and she has a lot of fans from all around the world. Pamela Watara has recently claimed that many prominent people have been chasing her to get a feel of her big boobs. Pamela shared that these men include famous and influential people such as parliamentarians, ministers, footballers etc. She also revealed that many of these men are willing to pay over $1,000 just to cop a feel of Pamela Odame Watara's humungous breasts. She further explained how she is being pestered by these leading politicians and other prominent men in society.  Want Bigger Boobs? Chinese Company Says Drinking Its Coconut Milk Will Help Women Get Enlarged Breasts.
"I am being harassed by a lot of men because of the size of my breasts. Sometimes people offer as much as $1000 just to have a feel. If I show you text messages as well as WhatsApp messages you will be shocked. These are popular and respectable persons in Ghana including two politicians, MPs and footballers." Pamela Odame Watara revealed in an interview on Adom FM.
View this post on Instagram
Here are some of the videos of the super sexy big-boobed beauty:
View this post on Instagram
She loves to dance
View this post on Instagram
One of her happy mood videos
View this post on Instagram
Pamela made it clear that she is not interested in letting these men touch her boobs for money. She cleared in the interview: "These are MPs and Ministers, but I have not yielded to their demands because I have a boyfriend. If they will give me the amount for free, I will gladly accept, but in return for my breasts, it is a big no."