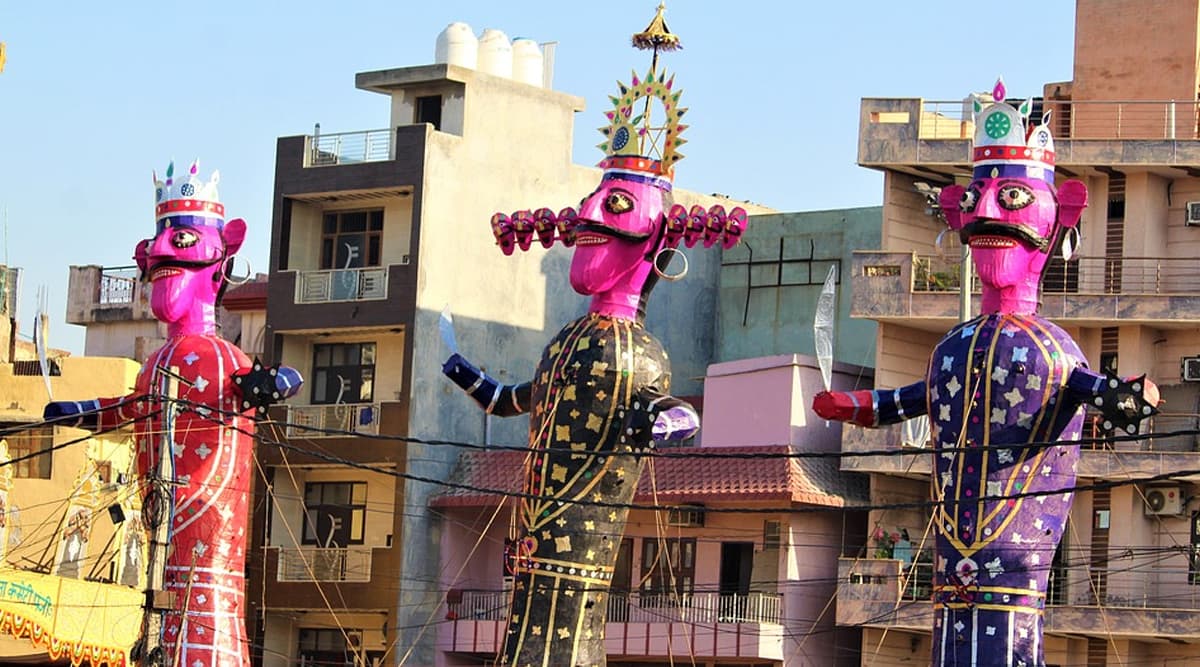 Ahead of Dussehra, effigies of Ravan are have been erected at popular grounds across the country. However, effigy-makers are facing a tough time dealing with rains, which do not seem to be in a mood to bid goodbye anytime soon. With rain pouring down at erratic intervals during the Navratri celebrations in Bhopal, artisans have been covering the Ravanas with raincoats to prevent them from getting wet! Yes, many tall effigies of Ravanas have been wrapped with plastic coats to avoid from getting drenched in the infrequent downpour. Seems that this year, Ravana effigies will be burnt in their new raincoats. Dusshera or Dasara also known as Vijayadashmi will be celebrated with great fanfare in the country on October 8, 2019. Dussehra 2019 Date and Time: Vijayadashami Puja Vidhi, Shubh Muhurat and Significance of Dasara.
The fear of the Rain God is so much that Ravana's brothers Kumbhkaran and Meghnad are also getting wrapped in raincoats. The rain has damaged paper and other materials used in the making of effigies causes loses to effigy makers.
Watch Videos of Ravan Effigies Wearing Raincoats Fearing Rain:
Effigies of Ravana are burnt to recreate the killing of demon king Ravana by Lord Ram in the Hindu epic Ramayana. On Vijayadashmi, tall models of the demon king are erected on large grounds and are burnt to ashes. Huge crowds gather to watch the effigy go down in smoke, which symbolises the victory of good over evil. This year, the tallest Ravana effigy has been erected in Chandigarh. At 221 feet, the effigy is built at a cost of Rs 30 lakh, and it is the tallest in the world. With air quality being a major concern, pollution-free crackers will be used inside the effigy.