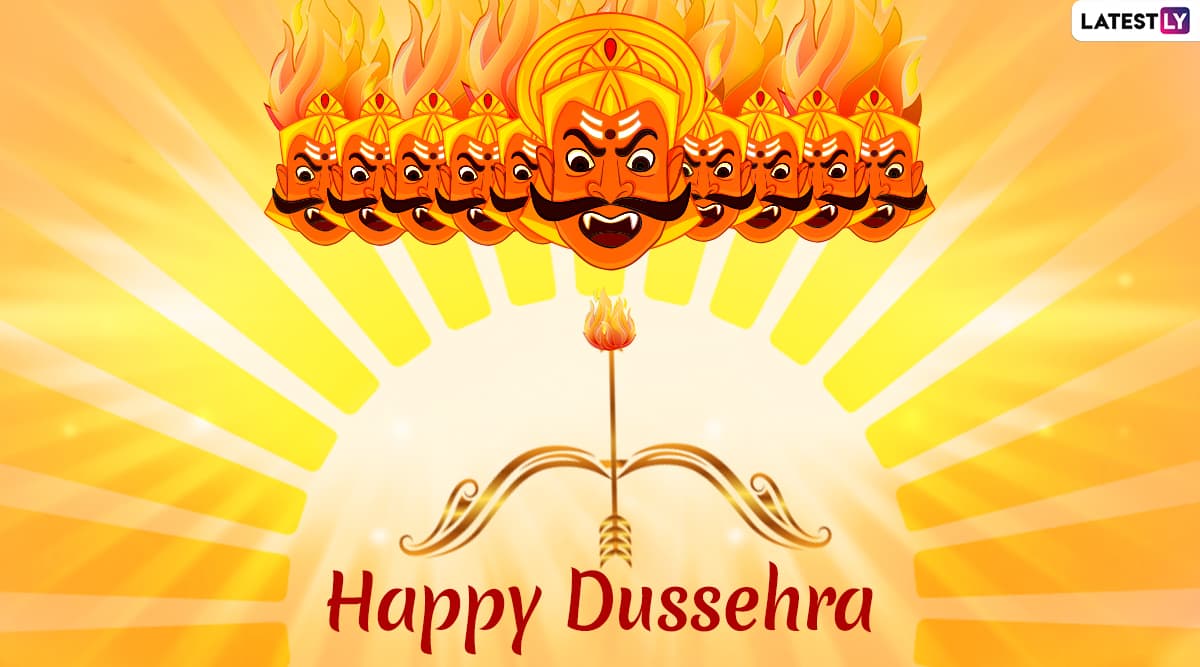 Dussehra also known as Vijayadashami celebrates the victory of good over evil. It falls on the tenth day of Ashvin in the Hindu calendar, hence the name. It marks the end of the nine-day festivities of Navratri. The Hindu festival will be commemorated on October 8, 2019. Dussehra is celebrated with various rituals, traditions and customs in different parts of the country. While the core essence of the festival is the same, the rituals and traditions surrounding Vijayadashami hold different meanings for people across the country. And as we prepare to celebrate this auspicious festival, here is everything you need to know about Vijayadashami and its significance in the Hindu culture.
When is Dussehra Celebrated?
Dussehra is celebrated every year at the end of Sharad Navratri, which is the post-monsoon autumn festival in India. It falls on the tenth day of the Hindu month of Ashwin, which is where the different names of the day are derived from. This year, Dussehra 2019 will be celebrated on October 8. Dussehra 2019 Date And Information: Know Significance And Celebrations Related to Vijayadashami.
Why is Dussehra Celebrated?
Dussehra or Vijayadashmi is celebrated in different ways across the country. However, the purpose of the festival is celebrating the victory of good over evil. This festival is known as Dussehra in the Northern parts of the country as the festival marks the day Lord Ram defeated the 10-headed Ravana. Dussehra or Dasara is said to translate to removing the bad, destroying the evil, sinful. Similarly, in the southern and eastern parts of India, this festival marks the day that Goddess Durga defeated the buffalo demon, Mahishasura. Vijayadashami, therefore, translates to victory on the tenth day.
How is Dussehra Celebrated?
Since the reason for celebrating Dussehra varies the ways in which this festival is commemorated also differs. While the people in North India celebrate the victory of Lord Ram over Ravana by burning effigies and recreating Ramleelas, people in the Western parts of India (Maharashtra in particular) consider Dussehra to be an auspicious day for new beginnings. People exchange leaves of apta as sona (gold) and decorate their homes with marigold flowers on this day. Durga Puja 2019 Dates in Kolkata After Mahalaya: Tithi Calendar, Durga Ashtami 2019, Maha Navami and Vijayadashami As Per Bengali Panjika.
In Southern India, temples are lit up, and houses are decorated to celebrate this festival. People also consider Dussehra to be an auspicious day to enrol their kids in schools. Meanwhile, those celebrating Pujo prepare for the immersion of the Durga statues and arrange lavish feasts to celebrate the last day of Durga Puja.
Dussehra, with its varied celebratory rituals and traditions, truly encapsulates the diversity of India. This festival holds immense significance in Hindu mythology. Even though the stories around the festival differ from state to state, the underlying reason remains the same - a reminder that the good always wins and evil will be defeated.