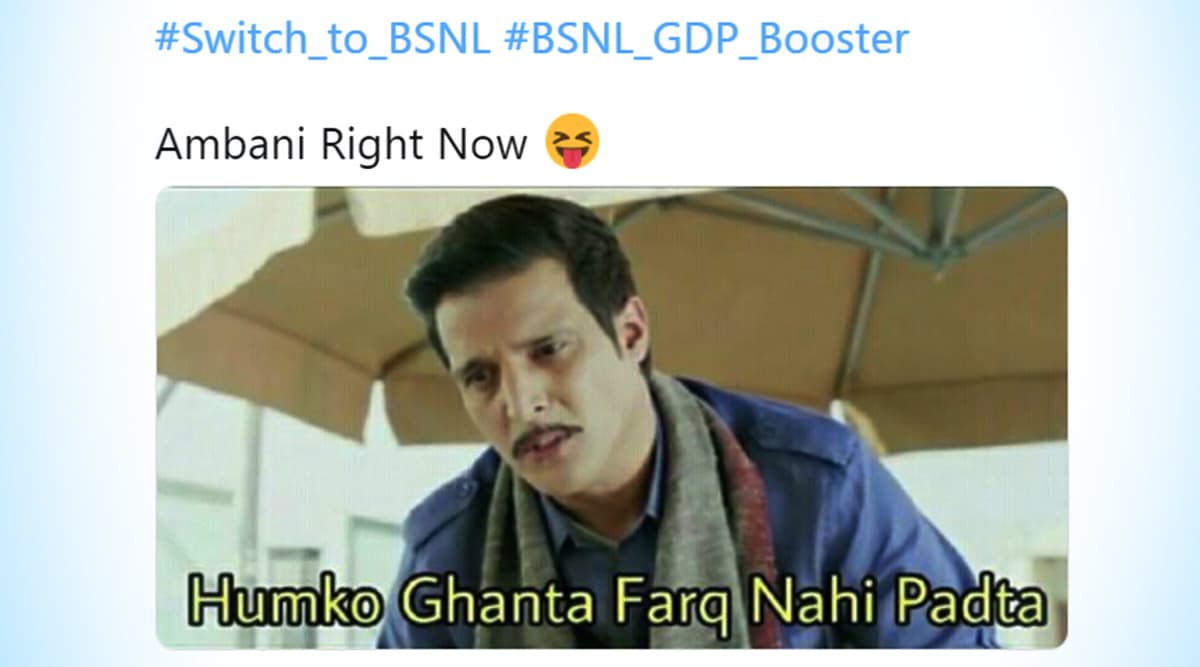 Reliance Jio announced recently that they will be charging 6 paise per minute on voice calls made to networks. Jio had promised free unlimited voice calls with their network, which made them the fastest growing telecom company in the country. Soon after the announcement, people were unhappy and trends like Ban Jio surfaced on social media. Now Switch to BSNL is trending on social media site of Twitter and people have some of the funniest reactions on it. Funny memes and jokes surrounding Reliance owner Mukesh Ambani are surfacing online. Reliance Jio to Charge Customers 6 Paise Per Minute For Voice Calls to Airtel, Vodafone And Other Mobile Networks; Here Are Details of The New Plan.
Reliance Jio's new charges aren't applicable on all Jio to Jio calls, all incoming calls, Jio to landline calls and WhatsApp calls. But the implementation of the Interconnect Usage Charge (IUC) fixed by the Telecom Regulatory Authority of India (TRAI), pushed Reliance Ji to apply the 6p rate on outgoing calls to another network. The Jio users were disappointed with the news and it became the talk of the town. Now as Switch to BSNL (Bharti Sanchar Nigam Limited) makes it to the trends, there are funnier reactions and memes made on the same. While some people are tweeting about the revival of the network, others have found the opportunity to make memes on it too.
BSNL Users Right Now
#Switch_to_BSNL #BSNL_GDP_Booster

BSNL users right now😎 pic.twitter.com/MJUvJud0Gi

— Rahul Koyalkar™ (@koyalkar_77) October 18, 2019
Busted!
Via whatsapp

Krwa lo port pic.twitter.com/YGeyC1PGdP

— Desi Bond (@OO7theBond) October 18, 2019
Other Operators Right Now...
Other operators right now 👇👇👇#Switch_to_BSNL #IndianeedBSNL pic.twitter.com/WIYJVHkx8T

— Shailendra Singh (@0e9aaff3c311458) October 18, 2019
Meanwhile Ambani
#Switch_to_BSNL #BSNL_GDP_Booster

Ambani Right Now 😝 pic.twitter.com/MKCTmfxjPX

— Rahul Koyalkar™ (@koyalkar_77) October 18, 2019
How a Conversation Would Look Like
#Switch_to_BSNL #BSNL_GDP_Booster

Meanwhile Ambani to #BSNL😂 pic.twitter.com/qperfRhW0O

— Rahul Koyalkar™ (@koyalkar_77) October 18, 2019
Hahaha
#BSNL_BR_REVIVAL #BSNL4G ##Switch_to_BSNL pic.twitter.com/siz6h1xXqe

— Kartar Jat (@kartarjat) October 18, 2019
BSNL has a tagline of Connecting India and some users of the network added to the fact that they have got a good connection in the remotest of areas. As more and more people ask for revival of the network, we wonder if people will choose BSNL over Jio or just switch to another network altogether.