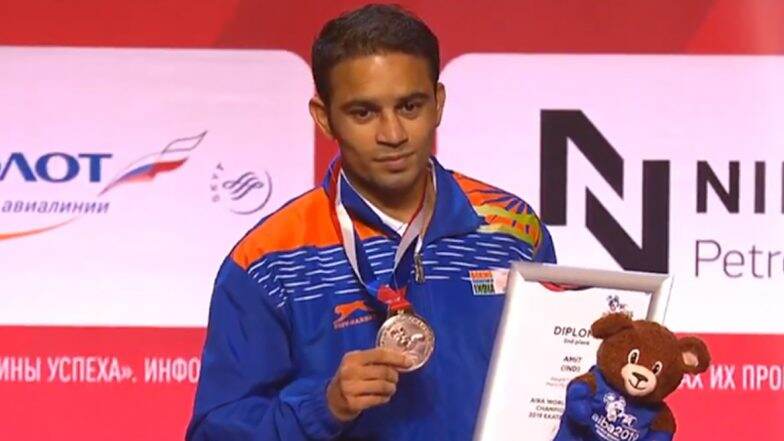 Amit Panghal became the first Indian male boxer to win a silver medal at the AIBA World Boxing Championships. The 23-year-old clinched a historic maiden silver for India despite going down to reigning Olympic champion Shokhobidin Zoirov in the 52kg category final of 2019 Boxing Championship at Ekaterinburg in Russia. Panghal, who is the first Indian male boxer to appear in the final of the Boxing World Championships, lost 0-5 by unanimous decision. But despite his loss against Zoirov of Uzbekistan, Panghal had scripted history and twitter congratulated him for the achievement. Amit Panghal Settles for Silver Medal at AIBA World Boxing Championships 2019: List of Achievements by Indian Boxer in His Career So Far.
Panghal, who is Asian champion in light Flyweight category and has also a silver medal to his name, landed some heavy blows despite his opponent being a taller and muscular athlete. He initially struggled to get going against Zoirov but came into his own in the second round. Zoirov, however, did well to rally back in the bout with some strong punches in the third round that eventually fetched him the gold. But Panghal's achievements in Russia ended a dream 2019 Boxing Championships campaign for India.
Amit Panghal Wins Silver
Silver for AMIT!🥈

A historic outing for 🇮🇳as the #AIBAWorldBoxingChampionships campaign comes to an end with a Silver and a Bronze Medal. First time ever, India will come home with two medals and a Silver for the first time won by #AmitPanghal.

Kudos Champs!

#PunchMeinHaiDum pic.twitter.com/PXcdUrp88G

— Boxing Federation (@BFI_official) September 21, 2019
Haryana Boxers Create History
Two Haryana boxers Amit Panghal & Manish Kaushik createt a history. Congratulations for the World Championships.#AmitPanghal, #ManishKaushik #worldmedals#Indianboxingsquad #BoxingFederationofIndia @mlkhattar @myogiadityanath @BJP4UP @BJP4Haryana pic.twitter.com/yaThW5Fid2

— Bhupendra Singh Chaudhary (@Bhupendraupbjp) September 20, 2019
Amit Panghal Creates History
बॉक्सर अमित पंघाल ने रचा इतिहास, विश्व बॉक्सिंग चैंपियनशिप में रजत पदक जीतने वाले पहले भारतीय पुरुष बॉक्सर बने. #AmitPanghal pic.twitter.com/mAUstSyV0D

— आकाशवाणी समाचार (@AIRNewsHindi) September 21, 2019
More Glory Awaits
It's a silver medal for @Boxerpanghal in #AIBAWorldBoxingChampionships .

He lost 5-0 in the final but scripts history by becoming the first Indian boxer to win silver medal in the #WorldBoxingChampionships .

More glory awaits for the champion fighter. #Champion#amitpanghal pic.twitter.com/tPTzIIwk4B

— Tej_Sports (@ItsTej) September 21, 2019
Fantastic Performance
A fantastic performance in the #WorldWrestlingChampionships - a debut attempt at the gold is significant.

Congratulations for a stupendous performance thro' the championship.

Wishes for more laurels ahead #AmitPanghal https://t.co/5EzKK3zmSh

— Dr. Suchitra Raghavachari (@DrSRaghavachari) September 21, 2019
A Warrior Indeed
Wining and Losing doesn't matter but you fight like a warrior#AmitPanghal wins the silver medal in #WorldBoxingChampionship pic.twitter.com/dN7lvxXuSB

— Yogendra Singh Shekhawat (@YogendraMMA) September 21, 2019
First Indian Male To Win Silver
🥈SILVER MEDAL FOR INDIA 🎉#AmitPanghal win🥈Silver Medal in flyweight 52kg after losing to Shakhobidin of Uzbekistan by 0-5 in at #AIBAWorldBoxingChampionships

🔥Historical Moment for #Indian 🇮🇳

FIRST INDIAN MALE BOXER TO WIN 🥈SILVER MEDAL FOR #INDIA pic.twitter.com/9NVQm7cGNf

— Prashant Ghosh (@ParshantGhosh) September 21, 2019
Firat Indian Male Ever
Huge salute to #AmitPanghal for winning the silver medal in the #WorldBoxingChampionships becoming the first Indian to do so. Hard luck to miss out the pole position. But #Tokyo2020 Loading💪 @Boxerpanghal #boxing#Tokyoインパール2020

— Siddharth Arjun (@sidarjun7188) September 21, 2019
A Place in History
Heartiest congratulations to #AmitPanghal for earning a place in history as the first Indian male boxer to reach the finals of the Men's World Boxing Championships. You have done us proud!@boxerpanghal pic.twitter.com/PBCDV2JHc2

— Harsimrat Kaur Badal (@HarsimratBadal_) September 20, 2019
The Nation is Proud
Congratulations Amit Panghal on becoming the first Indian male boxer to reach the final of AIBA World Boxing Championships. Good luck for the finals. Congratulations to Manish Kaushik on your bronze medal! You've both made the nation proud.#amitpanghal #ManishKaushik #boxing pic.twitter.com/f7e4KiFWil

— Neeraj Kundan (@Neerajkundan) September 20, 2019
This was also the first time that India finished the World Boxing Championships with more than one medallist. Amit won the silver medal, while semi-finalist Manish Kaushik returned with a bronze, making the first time in India's boxing history that two Indian boxers finished at the podium in a single Boxing Championship. Vijender Singh (2009), Vikas Krishan (2011), Shiva Thapa (2015) and Gaurav Bidhuri (2017) are the other boxers to have bagged medals at the world championships but all of them won the bronze.