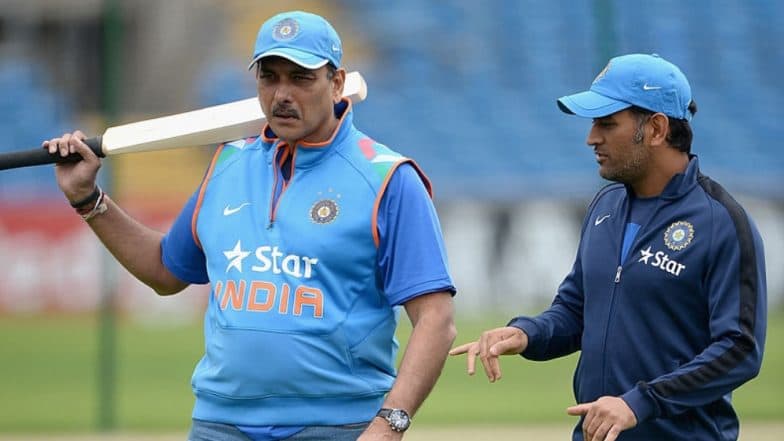 Indian coach Ravi Shastri is known for his outspoken nature which has landed him in trouble at times. Speaking of Mahendra Singh Dhoni after his brilliant knock of 87, the ex -commentator tuned coach said he has seen Sachin Tendulkar get angry but not the 37-year-old Indian wicket keeper. While it is a known fact that Dhoni is a calm guy and it is one of the virtues that has propelled him to greatness for more than a decade now. But it will not be correct to say the former Indian captain has never lost his cool.  Sachin Tendulkar Used to Get Angry, But Never Seen MS Dhoni Losing Cool: Ravi Shastri
Anger is a very basic human emotion and MS Dhoni has not been completely temper free. Here are some of the moments when Mahi was clearly irritated with some of the happenings and made his displeasure known to the world.
Khaleel Ahmed stepping on the pitch incident: In the second ODI of the three-match series between India and Australia, Mahendra Singh Dhoni and Dinesh Karthik were in a tight situation chasing a daunting 299 set by the home side. The pressure of the chase had clearly riled up Dhoni as he snapped at 12th man Khaleel Ahmed who seemed to have stepped on the pitch while carrying drinks. Some reports say an agitated Dhoni on seeing Khaleel spill water on the ground abused him, the entire episode was caught by television cameras and became the talk of the town.
Manish Pandey chided for lack of concentration: Over the years MS Dhoni is known to get the best out of youngsters and that has largely been on the grounds of a successful relationship he forges with them. But Manish Pandey quickly got to know things cannot be taken for granted if you are around him. During the second T20 game between India and South Africa last year, Dhoni and Pandey struck a solid 98-run partnership. But a video of them went viral with MS Dhoni having a go at him for not looking towards him. The use of cuss words this time was clear though and Twitterati had a field day at work commenting on the entire episode. MS Dhoni Uses Cuss Word at Manish Pandey During India vs SA T20I: Times When Captain Cool Lost His Cool (Watch Videos)
MS Dhoni angry at third umpire decision: During a one day game between India and Australia in 2016, Michael Hussey was declared out stumped by MS Dhoni on the giant screen although replay did suggest the Aussie batsman did get some part of his bat behind the line when the bells went off. The on-field umpires going against the third umpire decision asked Hussey to stay back. This infuriated the Indian wicket-keeper no bounds as he had a go at Billy Bowden. He asked the New Zealand umpire to explain his decision and was clearly not impressed by the chain of events.
Kedar Jadhav death stare: Indian batsman Kedar Jadhav was taught an important lesson on how you cannot get your senior pro in trouble with your team in dire straits. The visiting Australian side had India on the mat in the first ODI in Chennai and Dhoni batting on 7 tried to salvage the situation with Kedar batting alongside him on 40. A poor judgment on the part of Kedar Jadhav almost saw MS Dhoni getting stranded on the middle of the pitch but the Australians missed the opportunity. The death stare that came Kedar's way from India's seasoned veteran was so raw that it shook the Pune batsman. Surprisingly he got out in the very next delivery.  MS Dhoni to Sanjay Bangar: 'Ball Lelo Nahi To Bolega Retirement Le Rahe Hain', Watch Video
Hardik Pandya celebration on debut irking Dhoni: Suspended cricketer Hardik Pandya in one of the interviews revealed how MS Dhoni was irked by his celebration on getting Chris Lynn out in his debut game. He also gave Pandya a piece of his mind warning him not to continue with such expansive celebration ever in his career for the sake of the team's and his own personal disciplinary record. Dhoni, as we all know, is a hard taskmaster who goes about his business with great focus and does not like anything fancy, something he wanted his teammates to replicate.
These were some of the incidents that prove Ravi Shastri has got another set of his comments not technically correct. There is also a growing trend with cricketers being constantly compared to Sachin Tendulkar in one way or the other which just shows the God of cricket is certainly the benchmark when it comes to greatness.