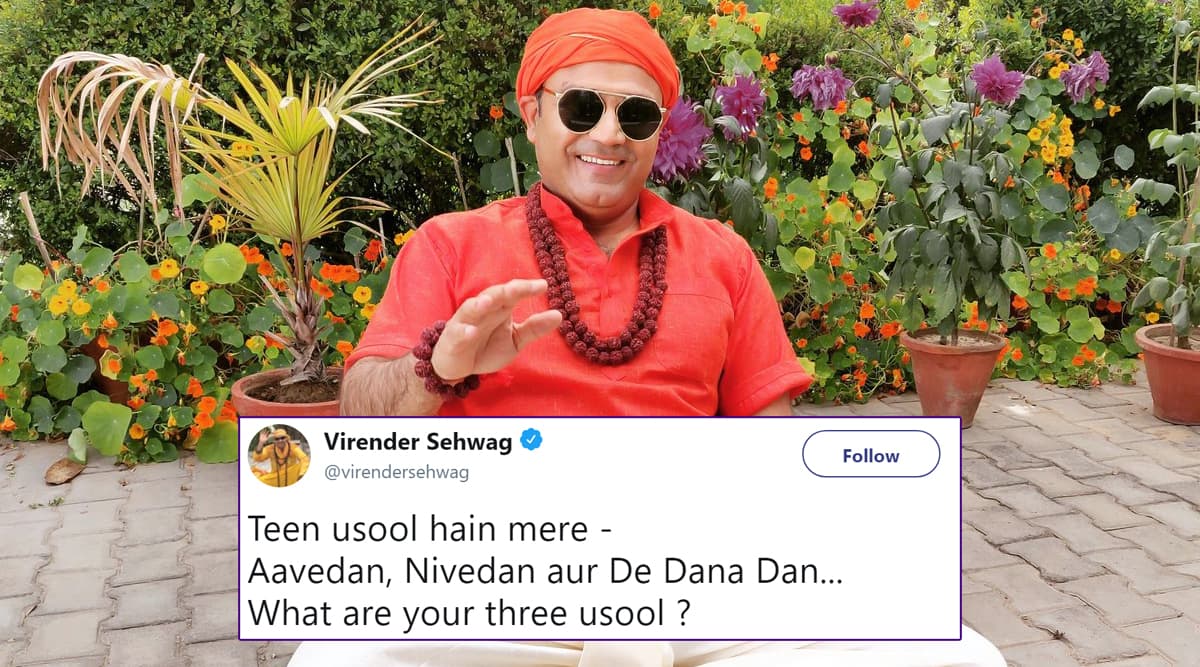 Former Indian opening batsman Virender Sehwag celebrates his 41st birthday on Sunday. Born on October 20, 1978, the former Indian batting star has been a cricketer who has always enjoyed the limelight. During his playing days, Sehwag made headlines with his explosive batting. And he continued making the buzz post-retirement. Virender Sehwag, fondly nicknamed Viru became popular in his role of a commentator as well as a social media star. Fans and netizens are in love with his witty comments and quirky observations. Virender Sehwag enjoys a mammoth following of 20 million on the micro-blogging platform, Twitter where he keeps his followers amused with his sassy and hilarious tweets. As we celebrate Sehwag's 41st birthday, we will look at some of his funniest tweets on Twitter that became viral. India vs Bangladesh 2019: Virender Sehwag Adds Twist to IND vs BAN Cricket Rivalry With New Campaign (Watch Video). 
Sehwag just not only comments about cricket events or festivals, but he also tweets anything that he likes. His extraordinary hilarious tweets have earned him a tag of a personality with a great sense of humour. He has a great sense to play with words and his sharp ability has made a popular celebrity on Twitter too. As the former Indian opener adds one more illustrious year to his life, here we will look at some of the funny tweets shared by Sehwag in recent time.  Sourav Ganguly Appointed BCCI President, 'Great Signs for Indian Cricket', Says Virender Sehwag. 
Super Glue!
Maine toh bas 14-15 saal spinners ko Chipkaya, par yeh to 60 saal se Chipka rahe hain ! pic.twitter.com/TtLSDI6jn2

— Virender Sehwag (@virendersehwag) September 4, 2019
Viru Being Viru!!
Bhole ke Bhakt , Hanuman ke Chele,

Sab kuch Jeet lenge Akele ! pic.twitter.com/u7ybUc2lDM

— Virender Sehwag (@virendersehwag) August 19, 2019
De Dana Dan!
Teen usool hain mere -

Aavedan, Nivedan aur De Dana Dan...

What are your three usool ? pic.twitter.com/T8HJ0mh0Tq

— Virender Sehwag (@virendersehwag) August 3, 2019
DLS Salary!
Will it be advantage employees if Salary is given by Duckworth Lewis in rainy months. If baarish mein bhi employee is coming to office. What do HR log think?

— Virender Sehwag (@virendersehwag) July 9, 2019
LOL!
What Indian Team does to opposition these days ! pic.twitter.com/avYdw6QDhT

— Virender Sehwag (@virendersehwag) June 20, 2019
IND vs PAK ... ROFL!
When you hope to see a close #IndvsPak World Cup match but what you keep on getting is a one-sided contest! pic.twitter.com/eWqXTwXSLq

— Virender Sehwag (@virendersehwag) June 17, 2019
Sehwag is one of the best batsmen to ever play cricket for India. He even used to bowl and gave some great performances for Team India. In 104 Test matches, he smashed 10,441 runs with 23 hundreds and 32 fifties. In ODIs, he played 251 matches smashing 7929 runs with 15 hundreds. He was known for his pace in batting as an opener managing a great strike rate. He also smashed two triple hundreds in Tests- the biggest achievement of his career. On another occasion, he scored 293, just 7 runs short of another triple hundred.