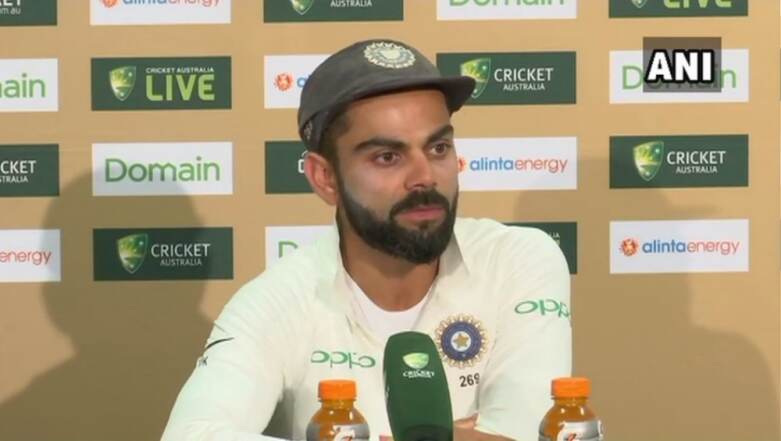 For a couple of days now, the crowd at the Melbourne Cricket Ground has hurled racist comments to the players. In fact Cricket Australia even issued a formal warning to the crowd after they obtained footage of the racist comments from ESPNCricinfo. The footages are now passed to the Victoria Police and stadium management via Cricket Australia.  Today, amidst the racist chants, there were other comments from the audiences. This time the crowd targeted the Indian cricket captain Virat Kohli and said, "Kohli is a Wanker'. India vs Australia 2018-19: Crowd Warned After Racism Chants of 'Show us Your Visa' Were Heard at MCG.
Generally, Virat Kohli would have gotten annoyed and would have lost his calm, but this time he had a perfect reply for the visitors hurling hateful comments against him. The chants, "Kohli is a wanker" reached the ears of the Indian captain and without uttering a word he greeted the visitors by tipping his cap and bowing to the crowd. The picture of the gesture was shared by a media house in Australia with the caption, "India captain @imVkohli was greeted with the chant of "#Kohli is a wanker" by the MCG crowd. His response..."
India captain @imVkohli was greeted with the chant of "#Kohli is a wanker" by the MCG crowd.

His response... pic.twitter.com/YUTUh3woIy

— Telegraph Sport (@telegraph_sport) December 28, 2018
A CA spokesperson said that Cricket Australia takes a zero-tolerance stance against any form of abuse or racial vilification at any of their matches, whether it be towards fans, players, or staff. "Fans are able to report this to stadium staff or security. Victoria Police and MCG stadium security monitored the behaviour of the crowd in a section of the stadium today and evicted several fans for inappropriate behaviour. They will continue to monitor the area for remaining days of the Test," explained the spokesperson.