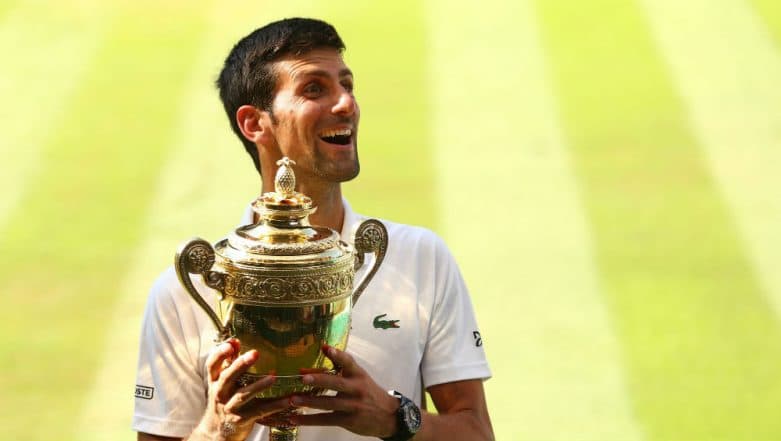 Novak Djokovic, the Serbian tennis player and the current World No. 1, turns 32-years-old today. Djokovic was born on May 22, 1987, in Belgrade, Serbia. The 15 time Grand Slams winner, who is currently at the third spot in terms of most number of Grand Slams won (only behind his great contemporaries Roger Federer (20) and Rafael Nadal (17), is part of the "Big Three" in the sport of Tennis. Djokovic along with Federer and Nadal forms part of the Golden generation of tennis, who have given fans all over the world unforgettable moments and matches. Novak Djokovic's Interview as a 7-Year-Old Proves He is a True Champion, Watch Video Where He Says, 'Tennis is a Duty for Me'.
Djokovic has to his name a record seven Australian Open titles, four Wimbledon trophies, three US Open titles and one French Open victory to his name. Besides from being one of the greatest players of all time, Novak is also a bit of a prankster and is known as the "Djoker" for his antics on the tennis court. Novak Djokovic Pens Emotional Tribute to His 'Tennis Father' Niki Pilic, Calls Him His Life Mentor.
Novak's brilliant returns, forehand and backhand is matched only by his wit and attitude on the court. Sometimes he can be seen mimicking players, and at other moments he is seen holding an umbrella for a ball-boy on the court.
Watch Djokovic's Funny Moments on the Court in the Video Below
However, while playing, the Serbian is a picture of concentration and intensity. The Serbian has had a hard life as he was growing up in a war-torn nation, but had only one dream in life and that was to become the World No. 1, a dream that he achieved and is living it like a champion. Novak Djokovic's #10yearchallenge is Unmissable! Tennis Great Bares it (All) Most in These Pics!
Novak Djokovic will now head to the French Open, in quest of his second Grand Slam on clay. The French Open is the only Grand Slam that the Serb has won only once and he would surely like to add to his tally at this summer's French Open. We wish the champion a happy 32nd birthday and hope that he keeps entertaining and surprising fans for years to come.