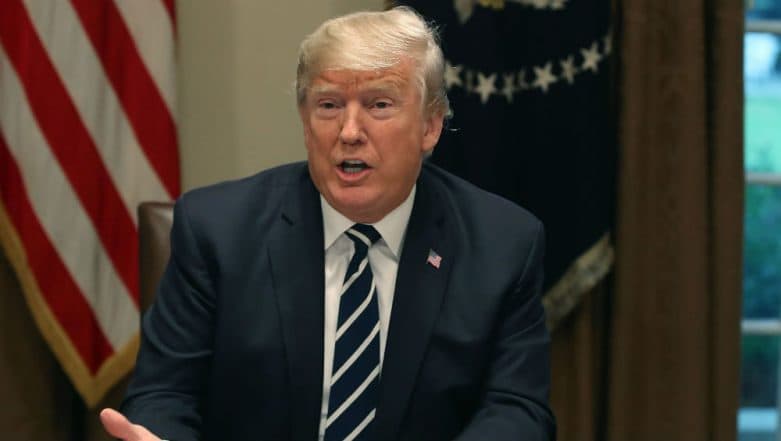 Washington, June 24: With tensions with Iran further escalating, United States President Donald Trump on Monday signed "hard-hitting" sanctions against Tehran's supreme leader Ayatollah Ali Khamenei. The move, Trump said, is aimed at targeting the person who is "ultimately responsible" for Iran being a "hostile" nation.
Trump said his administration is not in favour of a conflict, but will continue to pressurise Iran till it does not retract from destabilizing activities in the Middle East region. UAE Calls for Talks to Defuse Escalating Tensions After Tehran Shoots Down American Drone
The President said his regime can never allow Iran to become a nuclear state, as it would lead to "catastrophe" in half of the world.
"Never can Iran have a nuclear weapon," Trump said as he signed the orders in presence of the media.
Despite the tough posture against Iran, Trump has kept the room for talks open. The President said the sanctions against Iran "can end tomorrow" if his counterpart Hassan Rouhani agrees to end the nuclear armament programme, and sign a fresh deal with the United States.
However, if Tehran refrains from entering into a dialogue, the sanctions will continue for "years from now", Trump added.
The fragile US-Iran ties, which worsened since the Trump regime pulled out of the 2015 nuclear deal, hit a fresh low last Thursday when an unmanned American drone over the Gulf of Oman was shot down by the Iranian military. This led to a fresh round of sabre-rattling, with the US 'almost' launching strikes against Tehran.