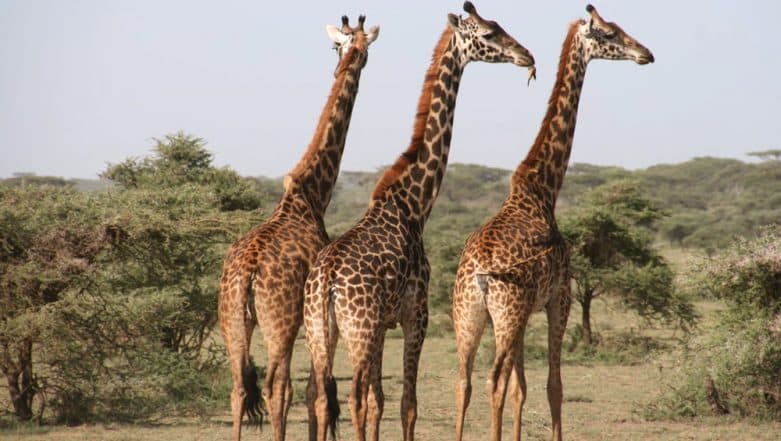 The giraffe population is on a decline in the world and animal part trade is a major reason behind the same. The animal trade of giraffe parts is booming in the US, that too legally. According to a  report by the Humane Society of the United States, more than 40,000 giraffe parts were imported to the US from the years 2006 to 2015. This accounts to almost 4,000 giraffe deaths. Expensive pillows, boots, knives, bible covers, other ornaments, trinkets are made with the giraffe skin. The sale of these products is also legal, showing the inhumanity towards the issue.
The Humane Society of the United States has now called for restrictions in the animal trade. Advocacy groups have also asked for a petition to declare giraffes as an endangered species. They found out 52 US locations where giraffe products are on sale. The giraffe population has fallen by 40% from the year 1990 and there are now less than a lakh giraffes alive in the world. US Female Hunter Trophy Kill 'Rare' Black Giraffe and Sharing Pictures of Her 'Dream Hunt' Sparks Outrage on Social Media. 
The researchers spoke to those who have been selling the products and found out that they purchased these products from trophy hunters. While some claimed that only the aggressive giraffes were killed to save the villagers in Africa. But the Human Society says the claims are false as there has been no evidence of giraffes being aggressive in recent times.
"Our investigation indicates that trophy hunting outfitters in Africa are capitalizing on every last bit of these beautiful animals. They are selling them to taxidermists, animal product manufacturers and dealers, who in turn market them to sellers in the US," said Adam Peyman, manager of wildlife programs and operations for the Humane Society International to The Guardian. Giraffes have been listed under the vulnerable species by the International Union for the Conservation of Nature. As they do not belong in the endangered species in the US, the sale of their products becomes legal. The organisation is thus campaigning to have them listed in the endangered species under the act.