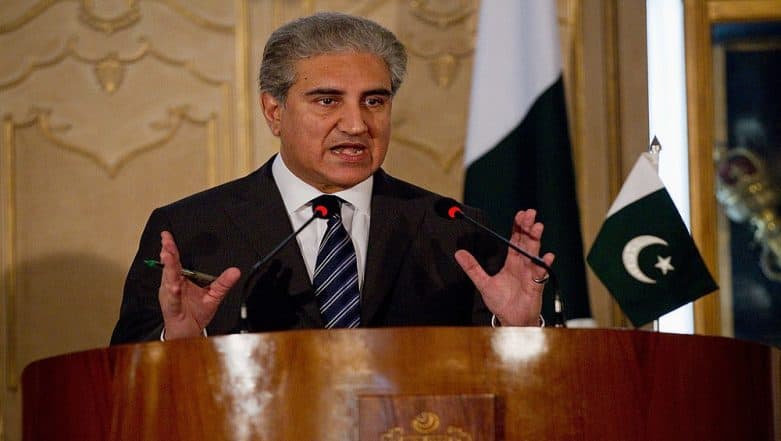 New York, September 11: A day after New Delhi and Islamabad squared off at the United Nations Human Rights Council (UNHRC) over the alleged rights' violations in Jammu & Kashmir, Pakistan Foreign Minister Shah Mehmood Qureshi said there is no scope of bilateral talks with India. The solution, he stressed, lies only in a third-party intervention. India Rejects Allegations of Human Rights Violation in Kashmir at UNHRC Meeting, Calls Pakistan 'Epicentre' of Terrorism.
"Bilateral talks between India and Pakistan not possible. Third party reconciliation is the only option between the two countries," Shah said while speaking to reporters in New York.
Pakistan's insistence on a multilateral solution to Kashmir is contradictory to what major global powers, as well international bodies have suggested. Russia, the United States as well as China have called upon India and Pakistan to engage bilaterally to diffuse off the tensions.
'Kashmir An Internal Matter', India at UNHRC: Watch Video
US President Donald Trump, who had kicked off a row in July with his offer to "mediate" in the Kashmir issue, has also refrained from using the term in his subsequent statement after India lodged its protest.
Trump, during the White House press briefing on Tuesday, said the tensions have considerably reduced between India and Pakistan as compared to two weeks ago. He, however, offered to "help" the two nations on the issue if they want him to.
"India and Pakistan are having a conflict over Kashmir as you know. I think (it) is a little bit less heated right now than (what) was two weeks ago," Trump told reporters adding, "I get along with both the countries very well. I am willing to help them if they want. They know that. That (offer) is out there."
His offer comes days after Prime Minister Narendra Modi, while jointly addressing the press with Trump in Biarritz on sidelines of G7 Summit, asserted that India and Pakistan are capable of bilaterally resolving their differences.
Rejecting the offer of a third-party mediated negotiation, Modi had said, "There are many issues with Pakistan. We don't bother other countries over these issues. All issues can be solved through discussion."