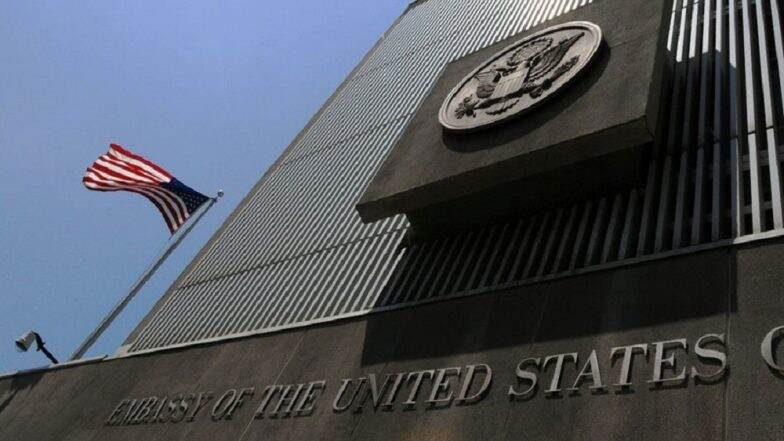 Tehran, May 15: With the tensions escalating between the United States of America and Iran, the US government on Wednesday ordered all non-essential staffs out of Iraq. Adding on, US Embassy in Baghdad advised those employees to leave Iraq by commercial transportation 'as soon as possible', reports Reuters.
The latest circular has been issued by the State Department which referred to the embassy and the US consulate in Erbil. Apart from the United States, countries like Germany and the Netherlands had suspended their military training in Iraq, citing escalating security risks in the Gulf.  Iran Pulls Out of Parts of 2015 Nuclear Deal
Warning the US citizens to leave the Gulf country soon, US statement said, as reported by the global news agency, "Normal visa services at both posts will be temporarily suspended. The US government has limited ability to provide emergency services to US citizens in Iraq."
Without disclosing the details, the statement just mentioned that US forces in Iraq face 'credible and possibly imminent threats' from the Iranian-backed forces. It also mentioned that US-led coalition fighting the Islamic State of Iraq and the Levant (ISIL, or ISIS) in Iraq and Syria was now at a 'high level of alert'. Iran to Gradually Withdraw From 2015 Nuclear Deal, Announces President Hassan Rouhani.
In the meantime, Qatar's Foreign Minister Sheikh Mohammed bin Abdulrahman Al Thani met his Iranian counterpart Javad Zarif in Tehran amid US-Iran tensions and tried to defuse escalating tensions in the Gulf, reports Al Jazeera. The aim was to ease the volatile situation.
Earlier on Sunday, citing 'heightened tensions', the embassy advised Americans to avoid travel to Iraq. It had also deployed forces - including an aircraft carrier and B-52 bombers - to the Middle East to counter "clear indications" of threats from Iran to its troops in the region. Donald Trump Aims for Major Nuclear Deal With Russia, China
It is to be known that after the 2005-nuclear deal was pulled off, Iran officially ended its compliance with several commitments of the United States. Though concerns were raised about a possible conflict between the forces, Iran's Supreme Leader Ayatollah Ali Khamenei said on Tuesday there would be no war.