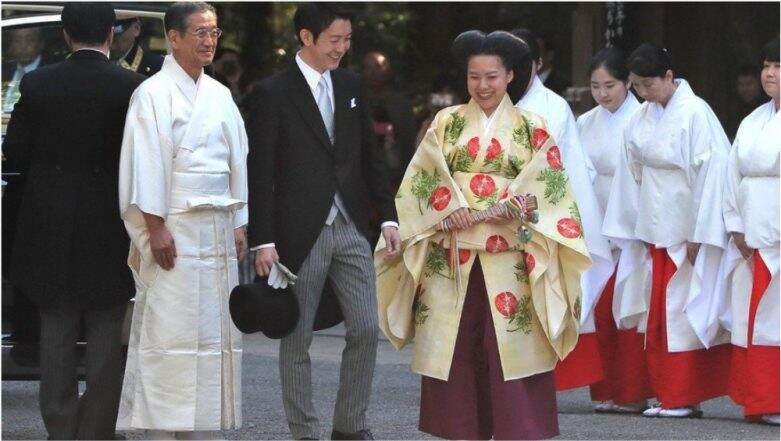 Japanese princess Ayako, 28-years-old, has married a commoner in a ceremony at Tokyo's Meiji Shrine. Princess Ayako, youngest daughter of Emperor Akihito's late cousin got married to Kei Moriya, 32-years-old, who works for major shipping company Nippon Yusen, as reported by Associated Press. The couple was shown on national news walking slowly before guests at the shrine on Monday morning. On getting married to a commoner, Princess Ayako will no longer be a part of the Imperial family. Princess Eugenie Shows Off Her Scoliosis Surgery Scar in Royal Wedding Dress! Know All About the Medical Condition of the Spine.
Ayako wore a Heian-era style hairdo and a traditional robe splashed with red and green patterns while Moriya wore coattails. According to Japanese media, the wedding took place in one of the pagoda-like buildings in the shrine complex and included an exchange of rings and a sharing of a cup of sake. While she no longer will be a part of the Imperial family, Ayako will retain honorary positions at two organisations, the Imperial Household Agency officials said on Saturday, as reported by Japan Today. The move comes amid concerns about the shrinking number of imperial family members performing public duties as women lose their royal status after marrying a commoner under the Imperial House Law.
Women who marry into the imperial family become members of the family, but those who marry commoners must leave. The eldest granddaughter of Emperor Akihito is set to marry a commoner in 2020. The 26-year-old granddaughter Princess Mako was scheduled to marry law firm worker Kei Komuro last year in November. But the couple announced the delay due to lack of time to make sufficient preparations. Akihito has said he will abdicate. His eldest son, Crown Prince Naruhito, will ascent to the Chrysanthemum Throne on May 1.