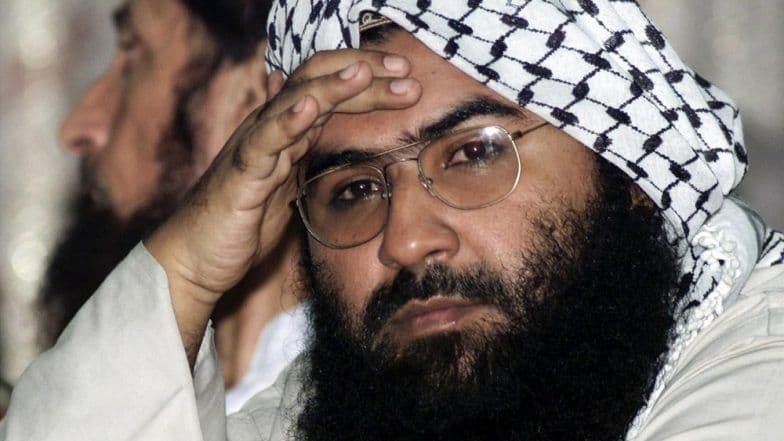 New Delhi, March 4: The media in Pakistan has rubbished  the claims that Jaish-e-Mohammed (JeM) chief Masood Azhar has died and said that he is very much alive, quoting sources close to his family. Social media and especially Twitter has been abuzz with reports about the JeM chief's alleged death, with many quoting liver cancer or kidney failure as the reason for his supposed demise. Masood Azhar Dead? Jaish-e-Mohammed Chief Died on March 2, Say Reports.
Pakistan based news channel Geo News reported that Azhar is very much alive but did not elaborate on the current state of his health. Pakistan-based terror outfit JeM had claimed responsibility for the terrorist attack in Jammu and Kashmir's Pulwama on February 14, which claimed the lives of over 40 CRPF jawans in a Fidayeen attack by a local suicide bomber named Adil Ahmed Dar. Masood Azhar's Brother Confirms IAF Mirage 2000 Jets Hit Jaish Training Camps in Balakot Air Strikes.
Following the attack, relations between India and Pakistan worsened and India retaliated by sending 12 Mirage-2000 fighter jets which dropped bombs on Jaish-e-Mohammed (JeM) training centres in Pakistan's Balakot. The IAF also raided Muzaffarabad and Chakothi in Pakistan, in a 21 minute operation on February 26, said reports. Pakistan May Not Oppose Proposal to List Masood Azhar as Global Terrorist: Report.
"In this operation, a very large number of JeM terrorists, trainers, senior commanders and groups of jihadis, who were being trained for fidayeen action, were eliminated. This facility at Balakot was headed by Maulana Yousuf Azhar alias Ustad Ghouri, the brother-in-law of Masood Azhar, chief JeM," Foreign Secretary Vijay Gokhale had stated.
This was followed by Pakistan sending F-16 fighter jets in Indian airspace on February 27 with an intention to attack military posts in Nowshera, Rajouri district. However, India scrambled MiG-21 Bison jets to reply Pakistan's offensive. Both India and Pakistan lost a jet each and IAF Wing Commander Abhinandan Varthaman landed in Pakistan via parachute after his MiG 21 was shot at.
Wing Commander Abhinandan Varthaman, who was taken under custody by Pakistan Army, was released on Friday night at Wagah-Attari border as he returned to a hero's welcome in India. Countries like Russia, France, US and, UK, amongst others, have extended their support to India in its fight against terrorism after the JeM led terror attack on Indian paramilitary forces.