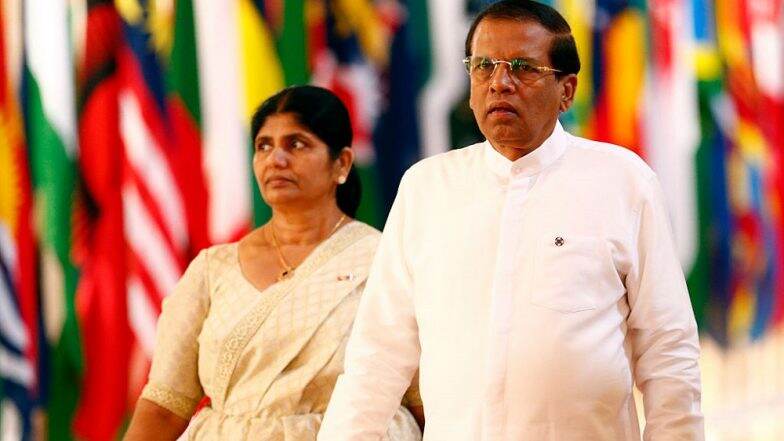 Colombo, November 9: Amid a hectic power struggle against ally-turned-foe Ranil Wickremesinghe, Sri Lankan President Maithripala Sirisena on Friday announced the dismissal of the 225-member Parliament. With the legislature being dissolved, the decks are cleared to hold snap elections.
The dissolution of the Parliament came hours after Sirisena's Sri Lanka Freedom Party announced that it lacks the numbers in the Parliament to validate ex-president Mahinda Rajapaksa's appointment as the Prime Minister. Sacked PM Ranil Wickremesinghe Had Sought Emergency Session of Parliament.
Shortly after issuing the Parliament suspension order, Sirisena announced that the next parliamentary polls will be conducted on January 5, 2019 -- nearly two yeas before the schedule.
Sri Lanka plunged into a political crisis last month after Sirisena staged a coup against Prime Minister Ranil Wickremesinghe, sacking him in a shock order issued on October 26, and appointing Mahinda Rajapaksa as the new PM.
The development came as a jolt for political observers in South Asia as Sirisena had rebelled against Rajapaksa during his presidential era, which had led to a poll battle in 2016 where Opposition parties rallied behind Sirisena to outthrow the "strongman".
The thaw between the two former allies came after Rajapaksa's party overwhelmingly won the local bodies elections earlier this year, indicating a shift in perception among the Sri Lankan electorate against their former two-time president.
Sirisena's decision to re-induct Rajapaksa, however, drew flak from international bodies apart from the Opposition. The United Nations had also issued a statement asking Colombo to adhere to its Constitutional principles.
UN Secretary-General Antonio Guterres had asked Sirisena to allow the Parliament function and "choose their Prime Minister". Although the President had assured that he would reconvene the legislature, he had ended up suspending the same.