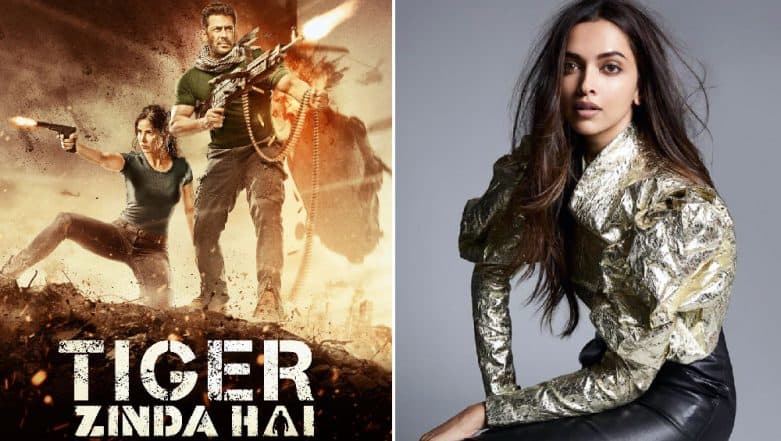 Before Race 3 put a big dent on Salman Khan's box office power, he was riding high on the blockbuster success of Tiger Zinda Hai. The December 2017 release was Salman Khan's biggest hit to date, with the domestic collections of Rs 339.16 crore. The sequel to the 2012 film, Ek Tha Tiger, which in itself was a blockbuster, had Katrina Kaif as the female lead. After the box office success of Tiger Zinda Hai, the makers are planning to ride the wave and cash in on a trilogy. Don't Understand Why Tiger Zinda Hai Was Selected at IFFI and Kaala Was Not: Pa Ranjith By Radhika Sharma.
Though there has been no official announcement made, the sequel to Tiger Zinda Hai is definitely on the cards. The work on the film will begin once Salman Khan finishes off his other committed projects, like Bharat and the film with Sanjay Leela Bhansali. Now an interesting new update about the film is being circulated is that Deepika Padukone could be a part of the film. Sanjay Leela Bhansali Fulfills Deepika Padukone's Dream of Working With Salman Khan.
Now before all Katrina Kaif fans get all riled up, there's a catch. Katrina will be the main female lead, there's no change in that status. However, Deepika Padukone will be having a cameo in the film. Sources say that it would be Salman Khan's wedding gift for Dippy. Ranveer Singh Teases Wife Deepika Padukone At Wedding Party, Says She Is Looking like Frida Kahlo on Acid – Watch Video.
The interesting bit is that Deepika is already being eyed as the female lead in Sanjay Leela Bhansali's film with Salman (that reportedly also has Shah Rukh Khan as the other male lead). So if both the news are true, then this is some really exciting stuff here for all Bollywood fans.
While Deepika has worked with Shah Rukh Khan in quite a few films, she has never worked with either Salman or Aamir Khan. The closest she came to work with Salman was in Sultan, though she was later replaced with Anushka Sharma. So now that this status quo is all about to change, when will we get to see Deepika and Aamir in a movie?