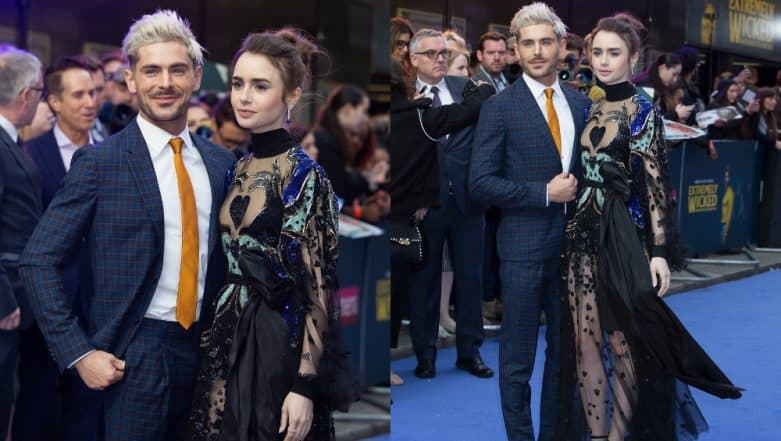 Zac Efron and Lily Collins looked "extremely gorgeous shockingly hot and alluring" at the premiere of Extremely Wicked Shockingly Evil And Vile. The premiere that was held in London on April 25 had the stars from the film. Needless to say, they looked super good together as they donned impeccable ensembles. In fact, Zac continued to flaunt his platinum blonde locks at the premiere.
Speaking about his role as Ted Bundy in the film, Efron quoted to Dailymail.co.uk, "I've never played a role in which I really have to separate myself from when I go home at night and it was almost impossible. I'd like to say that I did it successfully but I couldn't. I really wasn't interested in playing a serial killer. I'm not in the business of glamorising a horrendous person or his acts, but there is something unique about the way we went into the psyche of Ted, and his longtime girlfriend Liz."
.@ZacEfron & @lilycollins at the #ExtremelyWickedShockinglyEvilandVile premiere in London. @SkyCinema pic.twitter.com/YTlAHeo2S2

— Zac Efron's Crew (@ZacEfronsCrew) April 24, 2019
Further discussing the serial killer, Zac added, "It's a different perspective and not your run-of-the-mill serial killer cliche, body count gets higher and higher ... This is what it was like to be there on the day, we didn't know if he was innocent or guilty, we just saw Ted Bundy through their eyes." The film is set to release on Netflix on May 3. The film has been directed by Joe Berlinger, who previously also directed the documentary Conversations With a Killer: The Ted Bundy Tapes. The same was earlier released on Netflix earlier this year.
The story of Ted Bundy revolves around the notorious serial killer who terrorised 6 states in the United States of America back in time. He has a track record of killing over 100 women although he only admitted to killing over 30. Scary as it may sound, his charms did woo women.