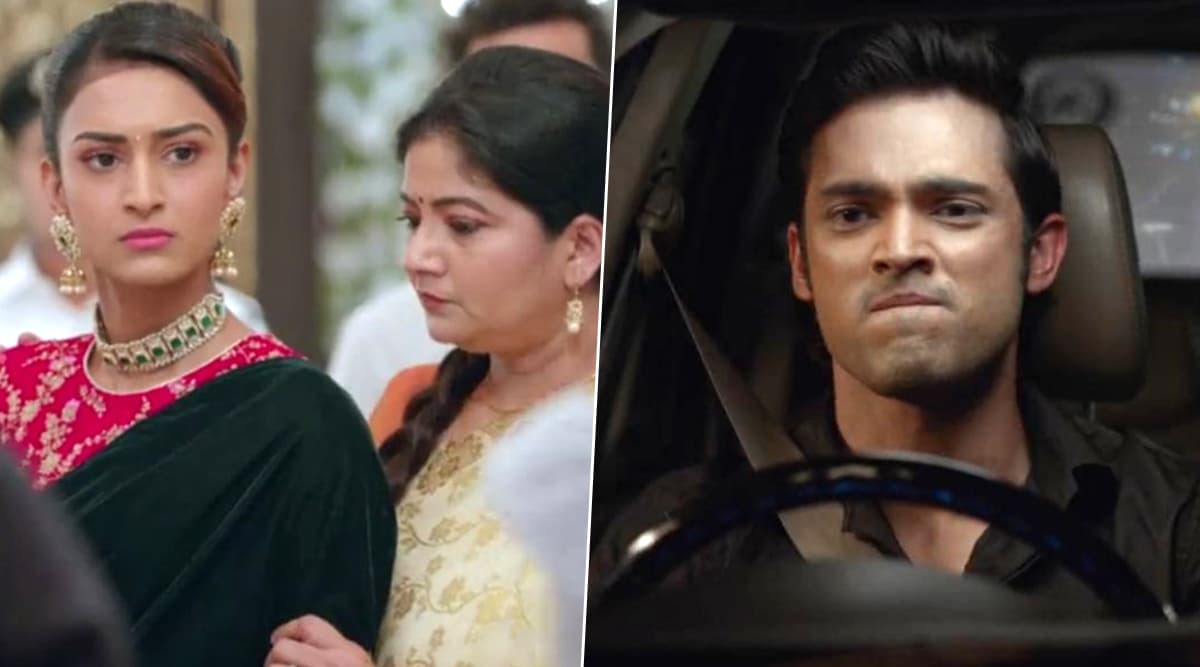 In yesterday's episode of Kasautii Zindagii Kay 2, the goons chase Prerna through a forest. Anurag and Viraj also go searching for Prerna but are unable to find her. Moloy gives an ultimatum to Mohini. Sonalika gets furious when she comes to know that Prerna has escaped from the cottage. In tonight's episode, we see Prerna (Erica Fernandes) ask the lady to give her a phone so that she can call her husband. The lady tells Prerna that as they live in the jungle so they don't have any landline facility and mobile network is not proper. The lady makes a kada for Prerna and tells she will feel good after drinking it. The lady tells Prerna to freshen up and have a little food. Kasautii Zindagii Kay 2 January 23, 2020 Written Update Full Episode: Sonalika Is Shocked to Know That Prerna Has Gone Missing, While Moloy Gives Mohini an Ultimatum.
Meanwhile, Sonalika (Aamna Sharif) berates Jagga and tells him to get Prerna back or else she will kill him. Ronit tries to pacify Sonalika and tells her to calm down. Anurag (Parth Samthaan) comes to the jungle again to find Prerna as he could not stay back in Basu house. Anurag calls Sonalika and tells her that he is not able to contact anyone at home so tells her to inform the police to come near the JP jungle road where he thinks the goons have kept Prerna. Sonalika is shocked to know that Anurag is outside the cottage. Anurag tells Sonalika how he found Prerna's anklet and tyre marks and followed that road. Anurag says that he is standing outside a cottage where lights are on and he suspects that the goons might be inside. Sonalika tells Anurag that she will tell Moloy to inform the Police Commissioner.
Sonalika tells Ronit that Anurag is outside and they should all hide. Anurag slowly comes inside the cottage to search for Prerna. Sonalika and all the goons hide behind the boxes. Prerna tells the lady and her family that some goons are behind her and tells her she will have to leave this place soon. The lady's husband tells Prerna that he will take her home safely and she should not worry. Prerna tells them she wanted to call home and inform about her whereabouts to her family. The lady tells her son will come home soon and from his mobile, she can call, as only his mobile catches network. Kasautii Zindagii Kay 2 January 22, 2020 Written Update Full Episode: Prerna Tries to Escape Ronit's Goons, Sonalika Changes Her Plan After Hearing the Cops Plan.
The lady' son Sanju comes home limping. Seeing his condition the lady gets upset and asks how he got hurt in his leg. Sanju is Jagga's brother and the lady in whose house Prerna came is his mother. Sanju's sister takes his phone and tells the house help to give it to Prerna as she wanted to call home. Prerna tells the house to help to keep the phone and goes to wash her hands. Meanwhile, Jagga also comes home and tells his family that one lady hit Sanju badly so he got hurt. Jagga tells them that the lady was pregnant. Jagga' sister and mother come to know that Prerna is the same lady who hurt Sanju. They drag her out from the room and tie her with rope. Jagga calls Sonalika and informs her that Prerna is with him in his house. Sonalika tells Jagga that she is near his home and she will come and take Prerna.
Prerna is shocked to see Sonalika in Jagga's house. Prerna tells Sonalika that is she so scared of her that she took help from the goons. Sonalika tells Prerna whatever she says she will kill her for sure. Jagga tells Sonalika to double the amount of payment. Sonalika agrees as she just wants Prerna to be killed before Anurag finds out. Prerna slaps Sonalika hard. Jagga takes a vase and hits on Prerna's head, she becomes unconscious. Jagga and Ronit pick's Prerna and put her inside the car. Anurag on the other side overhears a goon talking to someone who tells him to come in the jungle where they will kill Prerna.
In the precap, Sonalika tells Ronit to throw Prerna down from the cliff.