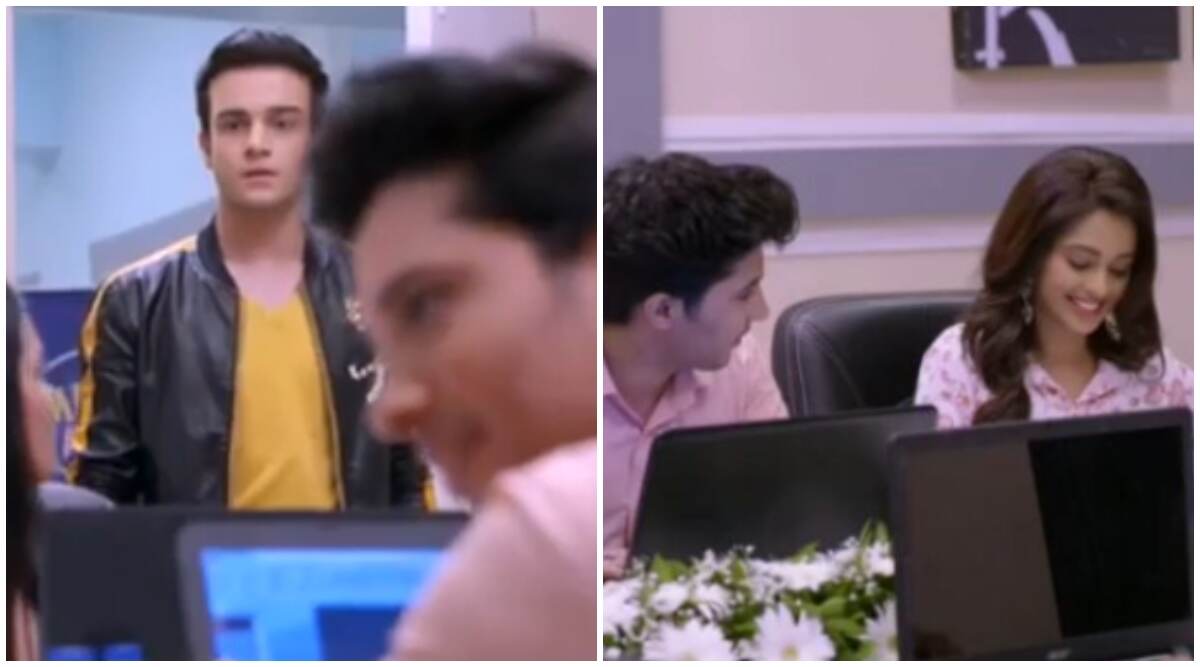 In yesterday's episode of Kumkum Bhagya, we saw Ranbir (Krishna Kaul) goes back home and gets wet in the rain. He realizes that he enjoys it like Prachi (Mugdha Chaphekar) had said he would. He goes home and sees Abhi eating ice-cream hiding in the living room. Abhi asks Ranbir who he is in love with to get wet in the rain like that. Ranbir thinks he loves Rhea but he even thinks about Prachi. Rhea is excited when she sees she will be sharing her room with Priyanka, her cousin, for a while. Abhi imagines that along with Pragya , if his elder daughter were also at home, they would also be such close friends. Tonight's episode starts Purab telling Abhi (Shabir Ahluwalia) that if he had not separated from Pragya (Sriti Jha) their family would be complete. Abhi remembers how just like Rhea, Pragya also liked making white butter too. Abhi wishes he had spent more time with Pragya when they were together. Kumkum Bhagya September 17, 2019 Written Update Full Episode: Ranbir Slowly Begins to Fall in Love With Prachi, While Rhea Develops Feelings for Him!
On the other hand, Shahana goes to the kitchen for a glass of water and finds Rishi there. Rishi asks if the kerchief he found in her room is Shahana's. She tells him that the whole room is hers. Shahana tries to make Rishi leave the room but he smartly handles her without getting angry and goes to sleep. The next morning Ranbir is at work when Purab walks in. Ranbir tries asking Purab for a half-day to go play football.
Later, Purab tells Ranbir that there is a new event that Ranbir's father, Vikram, has taken up on short notice. He tells Ranbir to call his father and find out the details. Ranbir finds out that his father accepted the event of organizing the college fashion show where Rhea will be walking. Abhi and Purab ask him to put all his effort into the event. BARC Report Week 36, 2019: Kumkum Bhagya Ranks at Number 1 While Guddan Tumse Naa Ho Payega Makes a Surprise Entry in Top 5
Meanwhile, Priyanka drives with Rhea's friends to a market. When she walks in the market she feels everyone at the market is not as good as her. She bumps into Sarita and throws her down. Priyanka and Sarita argue about whose fault it is. Pragya steps in and forces Priyanka to apologize to Sarita.
Later on, Prachi finds out she will be working with Ranbir and Rishi on the fashion show. Priyanka shows up and asks Rishi if he missed her. Rishi leaves without responding to Priyanka. Sarita calls and complains to Rishi about the girl who she fought with at the market.
Ranbir enters the conference room and notices Prachi and Rishi talking and gets jealous. Abhi and Purab enter the room and introduce everyone to Ranbir who will be heading the fashion show. Abhi also goes on to appoint Prachi as Ranbir's assistant for the project and adjourns it. Priyanka walks in late and gets a moment alone with Rishi. She questions him if he missed her and when he nods his head, she gets happy.
In the next episode, a woman turns up at Disha's doorstep and warns her that the day she asks her boyfriend to marry her, he will leave her. On the other hand, Prachi gets Ranbir to enjoy a cutting chai and he keeps looking at her.