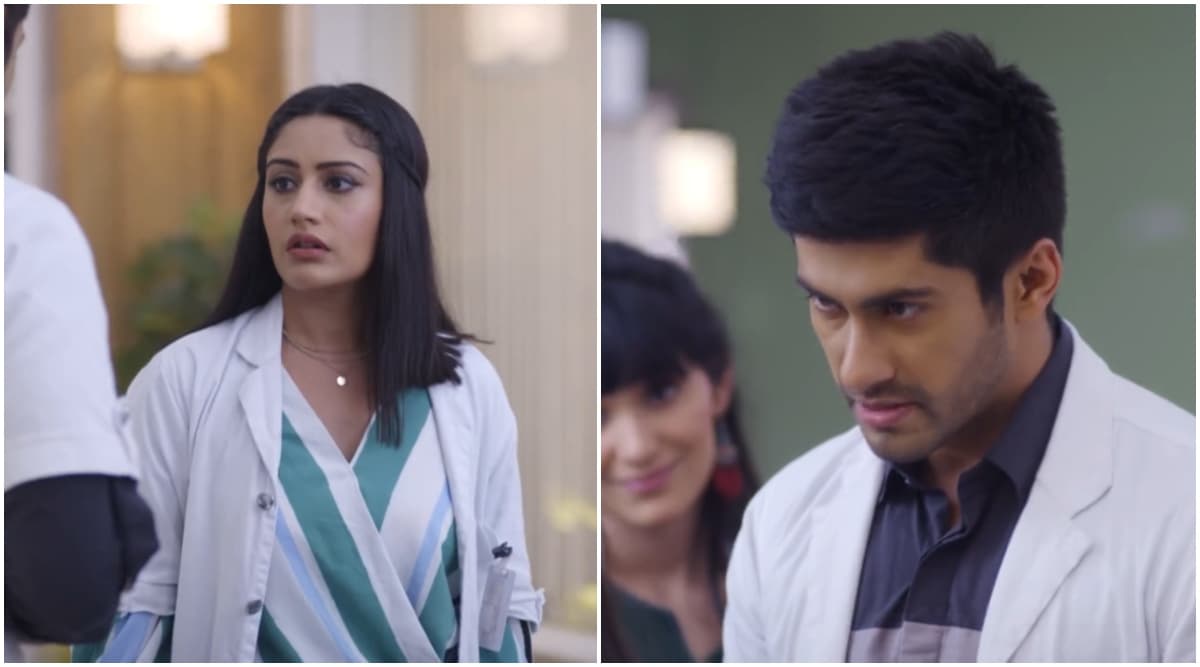 In the last episode of Sanjivani 2, we saw Ishani and Sid fight after getting locked in a room. Later, Asha challenges Rahil to prove Sid's innocence while Ishani tells the latter about her fears. Tonight's episode starts with Sid (Namit Khanna) smiling and seeing Ishani (Surbhi Chandna) while carrying her. She tells him to stop staring at her and lift her higher to catch cell network. Back at Sanjivani, Anjali gets a bouquet congratulating her on the inauguration of the luxury ward. She thinks aloud that maybe Vardhan has sent those but he comes and tells her that it wasn't him. Just then Juhi comes and tells her that she has sent the bouquet to her. Juhi invites Anjali to her home so that they can chat and get to know each other. When Anjali decides to not go, Vardhan asks her to go and know what Juhi has in her mind. Sanjivani 2 September 13, 2019 Written Update Full Episode: Ishaani and Sid Fight After Getting Locked in a Room
Meanwhile, Asha goes to Rishabh and tells him that she came to know about him putting up Ishani's posters in the hospital. Asha traps Rishab in her words and that is when Rishab tells her that he did put up the posters and says that Asha can not prove it. He also warns her that if she does anything then he will throw her out of Sanjivani. Asha records their conversation on her phone. Later, when Ishani gets the signal, she and Sid call Asha and inform her about the disease of Neil's father and tell her to start the treatment immediately. Sid tells Asha that they are locked in Neil's house and asks her to help them out.
On the other hand, Anjali comes to Juhi's house. Juhi (Gurdeep Kohli) welcomes her and is happy that she has come. Anjali praises her that she has decorated the house well. The duo gets talking and Anjali taunts Juhi saying that she has always been Shashank's first priority and that is why he made her the Chief of Surgery. Juhi tries to make her understand that Shashank has always loved her but she does not understand why Shashank and Anjali are at loggerheads all the time. Just then the doorbell rings and Shashank (Mohnish Behl) enters.
Later, Anjali tells Juhi that does she knows why she was fired from Sanjivani, Juhi says she does not want to know and that there might have been a professional reason. Anjali reveals to her that Shanshank loved her and since, he could not express his feelings for her, he fired her. Both Shashank and Juhi are shocked on hearing this. Sanjivani 2 Actress Surbhi Chandna Thanks her Fans for Making her Birthday So Memorable; View Post
Meanwhile, Ishani and Sid come to Sanjivani and narrate all that happened with them to their team. Neil comes and thanks Ishani as she saved his father's life, and Ishani tells him to thank Sid as he was the one who came to know about the disease. Later Sid tells everyone that they have an off for Ganesh Chaturthi and invites everyone, to his house for the same. Asha also shows everyone the audio that she recorded of Rishab. All come to know that Sid is innocent.
In the next episode, Ishani shouts and tells Dr. Sid that she is sorry. Everyone comes to Sid's place and Sid's mother pulls Ishani's ear.