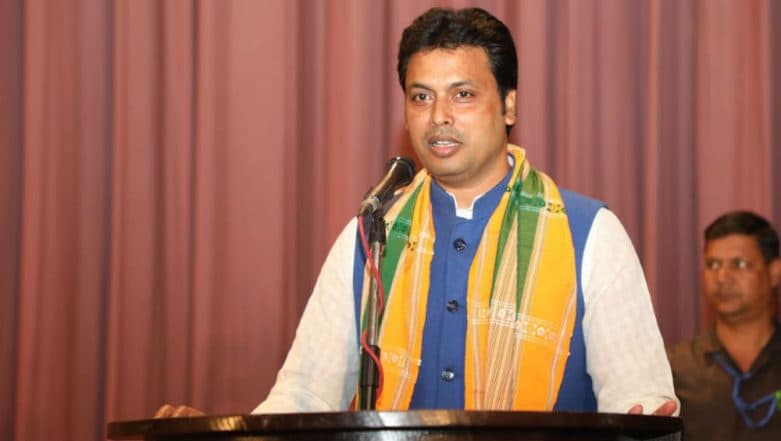 Agartala, April 17: Tripura Chief Minister Biplab Kumar Deb is the latest to join the fray of elected leaders who have attributed the success made by modern science in the past century to "scientific developments in ancient India". According to Deb, who stormed to power in Tripura after decimating the Left in the recent elections, said internet and satellite communication existed during the age of Mahabharata.
To validate his point, Deb narrated the incident of blind king Dhirtishistra receiving timely updates on the war which was underway in Kurukshetra from his narrator Sanjay.
"Mahabharat mein Sanjay ne bethke Dhritarashtra ko yudh me kya ho raha tha bol raha tha. Iska matlab technology tha, internet tha, satellite tha... (Sanjay was present before Dhritarashtra and narrated all that was happening in the war. This means technology, internet and satellite existed)," he said.
The Mahabharata, however, explained that Sanjay was granted special powers by sage Vyas which allowed him to know exactly what was going on during the 18-day war underway in Kurukshetra.
Deb said no Western nation could claim itself to be the "creator" of technology.
"Europe or America cannot claim to have created technology. In reality, this technology is ours," he said during his address on Computerisation and Reforms at Pragna Bhawan in the state capital.
Deb appealed the gathering to use social media and internet as a mean to improve their lives. "Our Prime Minister is leading by example. He has motivated all elected legislators and Chief Ministers to use the social media to connect with the people," he added.
Deb, 47, turned into a party heavyweight after pulling an unprecedented victory against the Mani Sarkar-led CPM in Tripura. Not only did the BJP eroded a 25-year-old red bastion, but also formed its first-ever government in the state.