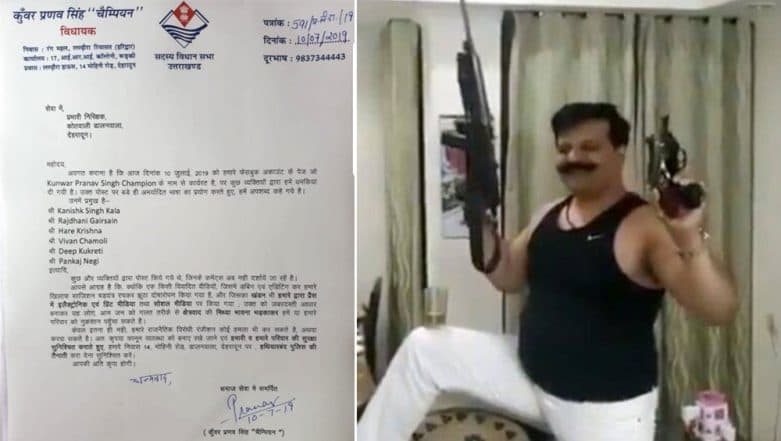 Uttarakhand, July 11: Suspended BJP MLA Pranav Singh Champion came to the limelight after one of his videos, featuring him along with his followers went viral. In the video, he was seen dancing to Bollywood songs, while brandishing guns. According to the latest development in the case, the suspended BJP MLA has now requested security from Dehradun police security because he and his family are allegedly getting threatened. Uttarakhand BJP Demands Permanent Suspension of MLA Pranav Singh Champion Permanently, Who Brandished Guns and Danced to Bollywood Songs.
The Uttarakhand BJP demanded his permanent suspension, keeping in mind the recent video going viral, which also contains abusive language.
Check the tweet from ANI:
Suspended BJP MLA Pranav Singh Champion who was seen in a viral video brandishing guns has now requested for security from Dehradun police alleging threat to him & his family. BJP Uttarakhand unit has recommended central leadership to permanently suspend him pic.twitter.com/r2PVJ65WDd

— ANI (@ANI) July 11, 2019
Champion is currently suspended for threatening a journalist. On Wednesday, after a lot was being spoken about the viral video, BJP MLA in his defence said, "It is a conspiracy, the weapons are licensed weapons and not loaded. I'm not pointing towards anyone or threatening anyone. What's the crime? Is drinking alcohol and keeping licensed gun a crime?"