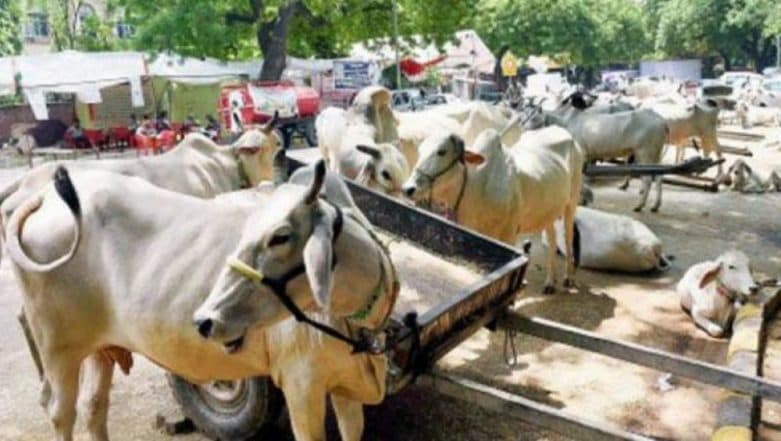 Bhopal, January 29: According to reports, 18 cows died in Madhya Pradesh's Agar Malwa district due to the cold waves in the region. Ajay Gupta, collector of Agar Malwa region said that the postmortem of all the cows is being done so as to ensure the exact cause of their death. Gaushalas in All Gram Panchayats, Promises Congress Ahead of Madhya Pradesh Assembly Elections 2018.
The collector informed that the postmortem is being carried out so as to rule out any other cause of death which may put the other cows to risk.
The collector also said that arrangements have been made to tackle the cold waves in the region.
Read the ANI Tweet Below:
Madhya Pradesh: 18 cows died, allegedly due to cold in Agar Malwa. Ajay Gupta, Collector Agar Malwa says, "Postmortem of all the cows is being done. We're ensuring that the diseased cows do not lead to any further mortality. We're making arrangements to tackle the cold wave." pic.twitter.com/kkKQ9ATa2N

— ANI (@ANI) January 29, 2019
Notably, the country's first cow sanctuary is located in Agar Malwa district, which was inaugurated in September, 2017. Then Madhya Pradesh chief minister and RSS chief Mohan Bhagwat had inaugurated the facility. 'Cow Express' to be Launched by Shivraj Singh Chouhan Government in Madhya Pradesh For Ailing Bovines.
'Cow' politics has always been one of the central issues in Madhya Pradesh politics. Former chief minister Shivraj Singh Chouhan had stated before the 2018 state elections in the state that more cow  sanctuaries like Agar Malwa district were needed to shelter the large number of cattle. Madhya Pradesh also became the second state after Rajasthan to have a ministry dedicated to cows known as cow ministry.
The Congress, in their 2018 state assembly election manifesto had mentioned that more Gaushalas would be opened in Madhya if the party comes to power. Congress went to form the government in Madhya Pradesh and Kamal Nath was sworn in as the chief minister.