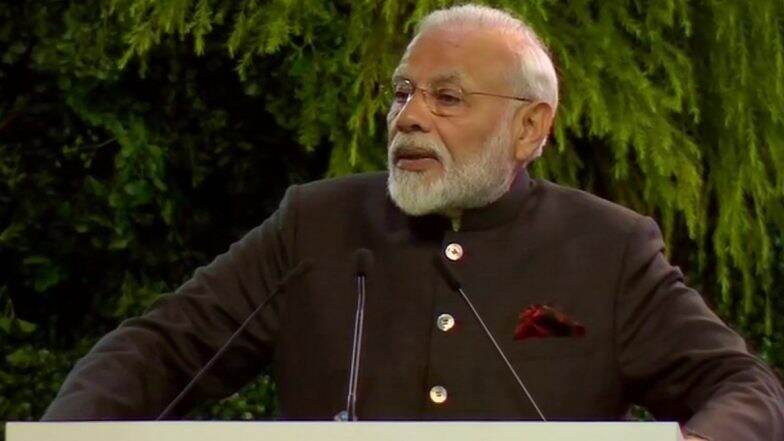 New Delhi, November 9: Prime Minister Narendra Modi on Saturday hailed the Supreme Court verdict in the Ayodhya land dispute case. PM Modi said that the top court's decision should not be seen as a win or loss for anybody. The Prime Minister urged the citizens to put Nation ahead of the religion. PM Modi, in his Facebook post, said, "The Honourable Supreme Court has given its verdict on the Ayodhya issue. This verdict shouldn't be seen as a win or loss for anybody. Be it Ram Bhakti or Rahim Bhakti, it is imperative that we strengthen the spirit of Rashtra Bhakti." Ayodhya Case Verdict: Ram Janmabhoomi Nyas Gets Possession of Disputed Site, Sunni Waqf Board to be Given 5-Acre Alternative Land in Ayodhya For Mosque.
The Prime Minister also prayed for peace and harmony in the country. He added, "It highlights that any dispute can be amicably solved in the spirit of due process of law. It reaffirms the independence, transparency and farsightedness of our judiciary. It clearly illustrates everybody is equal before the law." PM Modi also hailed the citizens of the country for maintaining calm and peace in the run-up to the verdict. Ayodhya Verdict Quotes: From PM Narendra Modi to Amit Shah and Other Key Leaders, Who Said What on the Supreme Court Judgment.
PM Modi's Facebook Post:
Earlier in the day, the Supreme Court's five-judge Constitution Bench, headed by Chief Justice of India (CJI) Ranjan Gogoi handed over the possession of the disputed site to the Ram Janmabhoomi Nyas, giving it permission to build a temple at the disputed location. The top court also directed the government to a five-acre alternative land in Ayodhya the Sunni Central Waqf Board for building the temple.
In 2010, a three-judge bench of the Allahabad High Court equally distributed the 2.77 acres disputed land between Ram Lalla, Nirmohi Akhara and Sunni Waqf Board. However, 14 petitions were filed against the Allahabad High Court's order. The Constitution Bench started day-to-day proceedings on 14 petitions against on August 6. The hearing was completed on October 16.