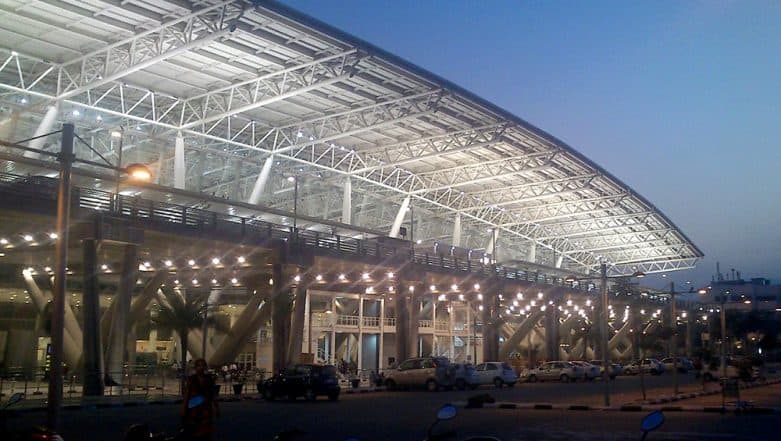 New Delhi, November 20: Chennai International Airport in Tamil Nadu has been awarded the 'AirSewa Champion Award' for its prompt action on complaints and grievances reported by customers or passengers. Civil Aviation Minister Suresh Prabhu on Monday presented the award to Chennai Airport in the presence of several dignitaries. The airport has received the award for a hundred percent timely closure of grievances in one year. Prabhu, along with Minister of State for Civil Aviation, Jayant Sinha launched the upgraded version of AirSewa 2.0 web portal and mobile app in the national capital on Monday.
Suresh Prabhu and Jayant Sinha also gave away the champion award to Chennai airport which saw hundred percent timely closure of grievances in one year. Secretary of Civil Aviation, Dr.GuruprasadMohapatraand other officials of the Ministry of Civil Aviation were present on this occasion. Chennai Airport to Get Rs 2500 Crore Terminal: AAI Official.
We are committed to providing a safe and comfortable air travel experience to passengers. #AirSewa 2.0 is part of our constant effort to provide world-class digital solutions to cater to the needs of the modern day air traveler and improve overall passenger convenience. @MoCA_GoI pic.twitter.com/875goMy5gO

— Suresh Prabhu (@sureshpprabhu) November 19, 2018
As air passengers face issues like flight delays, the problem in refunds, long queues, inadequate facilities at airports and complaints of lost baggage, the Ministry launched AirSewa web portal and mobile app in November 2016. The AirSewa 1.0 was received well, with around 30,000 app downloads and around 75,000 web portal hits since its launch. Ahmedabad and Indore Airports Awarded Best Airports in India at National Tourism Awards 2016–17.
The app helped a significant number of air passengers to get their concerns resolved with 92 % closure rate for grievance solutions. In addition to grievance redressal, AirSewa also provides real-time flight status and flight schedules.
Speaking on this occasion, Prabhu said that a need was felt for development of an upgraded version of AirSewa to provide a superior user experience with enhanced functionalities. The Minister further added that the focus is now on improving the quality of services so that passengers who are travelling have a safe and comfortable experience.
Major improvements include features such as secure sign-up and log-in with social media, chatbot for travellers support, improved grievance management including social media grievances, real-time flight status and details flight schedule. It must be noted that the upgrade and improved version of AirSewa operate through an interactive web portal as well as through a mobile app for both Android and iOS platforms and will offer passengers a convenient and hassle-free air travel experience. The web portal and application will help to capture air travellers' feedback for policy interventions.