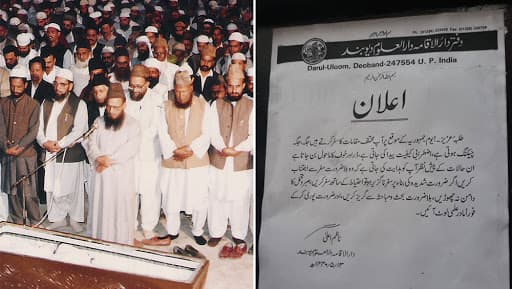 Lucknow, January 21: With days remaining for the Republic Day celebrations, hostel in-charge of Darul Uloom in Deoband in Uttar Pradesh has issued an advisory for the students travelling home for the holidays. In the letter issued to the students, the hostel in-charge cautioned students against travelling in trains.
According to the letter issued by the concerned authority, the students have been advised not to travel by trains, as previously they have been tortured unnecessarily by fellow commuters and security personnel. Citing the earlier instances, the hostel in-charge stated that if the travel, they should remain calm, composed and not to engage in a verbal spat with anyone. Fatwa Issued Against Nail Polish, Darul-Uloom Deoband Asks Muslim Women to Apply Mehndi Instead of Nail Paint.
This is not the first time that the Darul Uloom has issued such unique advisory. Earlier, the organisation had issued the fatwa against selfies and stated that it is 'haram' (sin) in Islam. It had also informed the students not to post images in the social media.
Since the Republic Day celebrations are just five days away, these advisories for students are seen as a precautionary step by Darul Uloom. However, some sects are of the opinion that this is being done because the minority community is scared.