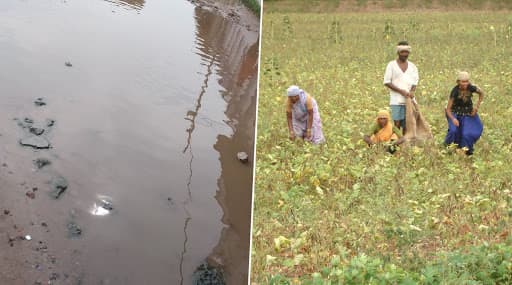 New Delhi, September 16: With incessant rains lashing the Western regions this monsoon, deficient rainfall in rural Haryana has forced the farmers to use dirty, untreated sewage water to irrigate their crops. Due to the deficient rainfall and sudden climate change in the north-Indian state, farmers are finding it difficult to grow crops and are using the sewage water to irrigate the crops. Maharashtra: More Than 12,000 Farmers Committed Suicide in 3 Years, Says Government.
The meteorological department report has mentioned that from the first week of June till September 11, Haryana saw only 244.9 millimetres of rainfall — a 39 percent deficit from the normal of 402.4 millimetres. While, excessive rains in the upper northern region has resulted in flood alerts. This critical situation due to sudden climate change has made farmers think of quitting the farming sector in Haryana.
Briefing about the situation, a rice and sugarcane farmer Malkit Singh said, as quoted by News 18, "Farmers use dirty sewage water coming out of the Ambala cantonment area out of desperation. The groundwater level is extremely low here, because of which the government has put a ban on installation of more borewells. How will the farmer grow paddy, which requires the field to be flooded close to 26-27 times?" Maharashtra Farmer Suicides: 235 Farmers Ended Lives in September, Relief & Rehab Minister Asks for Food and Health Security. 
Though being one of the many beneficiaries of the "green revolution" of the 1970s, Singh mentions that climate change has created a massive effect on the farming sector of the state. Farming land in Haryana constitutes 1.5 percent of India's total landmass, while it accounts for 15 percent of its total agricultural produce. Narendra Modi Launches Pension Schemes For Farmers, Traders.
World Health Organization (WHO) has predicted that almost half the world's population will live in water-stressed areas by the end of 2025. It also predicted that if there is a rise in temperatures for a continued period, that there would affect on the amount of rainfall. Stating similar views, the Food and Agriculture Organisation (FAO) report states more than 330 million people in South Asia faced the impact of climate change in 2015-16.